DailyEdge.ie rounds up the TV shows that you'll be tweeting about tonight and talking about tomorrow.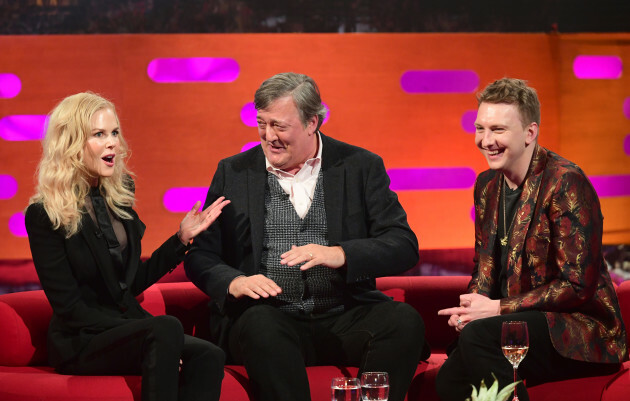 Ian West Ian West
The Graham Norton Show (BBC One, 11:05pm)
Nicole Kidman is on the red couch discussing her new crime thriller Destroyer, which has already generated some Oscar buzz for the actress. Meanwhile, Stephen Fry enthuses tales of Greek Mythology from his latest book, Heroes, and Take That perform.  
The Shawshank Redemption (Virgin Media One, 10.05pm)
In 1947, a banker in Maine is wrongly convicted for the murder of his wife and her lover and is sentenced to two consecutive life terms. In prison, we witness his transformation and journey as he adapts to his newfound life, where he forms a close bond with a fellow inmate. Starring Time Robbins and Morgan Freeman, it narrowly missed out on the Oscar to Forrest Gump.
The Mash Report (BBC Two, 10pm)
Nish Kumar and comedy correspondents Rachel Parris, Ellie Taylor and Steve N Allen give us a satirical and surreal glimpse into the week's news. With Brexit and the border issue dominating this week's news, the laughs are sure to come close to the bone. Here's hoping laughing doesn't become crying. 

Everyone is talking about… Love Island: Christmas Reunion
Yesterday, ITV announced that Love Island 2018 is getting a Christmas Special! However, there looks like there might be a spanner in the works, with a row reportedly breaking out over pay. The reality stars are apparently incensed that they will only be paid £10 an hour.  A source told The Sun:
They have been in uproar over being paid so little for two days' work. It almost isn't worth hours of awkward conversation with your ex — which for many of the islanders will be the case now.
 Yeah, that sounds fair! 

Or flick over for…
Gogglebox (Channel 4, 9pm) Watch people on telly watch telly.
Have I Got News For you (BBC One, 9pm) David Mitchell is the host with Paul Merton and Ian Hislop as the regular team leaders. 
The Late Late Show (RTÉ One, 9pm) Rugby legend Peter O'Mahony reflects on last week's victory against the Kiwis, and Ryan also meet Boyzone before they embark on their farewell tour.
I'm a Celebrity… Get Me Out of Here (UTV 9pm) Holly Willoughby and Dec Donnelly present a round-up of the celebs surviving in the wild down-under.  
DailyEdge is on Instagram!