TRIBUTES HAVE been pouring in for the late singer and actress Whitney Houston, who was found dead in a Los Angeles hotel room last night.
Her godmother Aretha Franklin has spoken of her devastation and shock upon hearing of Houston's death, saying it was "so stunning and unbelievable". "I just can't talk about it now," she said.
Meanwhile, Houston's ex-husband Bobby Brown decided to go ahead with a New Edition reunion performance in northern Mississippi after hearing of Houston's death. Addressing the audience, Brown said:
First of all, I want to tell you that I love you all. Second, I would like to say, 'I love you, Whitney.' The hardest thing for me to do is to come on this stage.
Houston's former mentor Clive Davis also went ahead with a concert last night after hearing of the star's death. The event was held at the same hotel as her body was discovered, and Davis said that the show went ahead because Houston would have wanted the music to go on.
At that event, Alicia Keys spoke of how Houston had inspired her:
(Video via AliciaKeysGlobal)
In a statement posted on her website, Dolly Parton (who penned Houston's The Bodyguard classic I Will Always Love You) said:
Mine is only one of the millions of hearts broken over the death of Whitney Houston. I will always be grateful and in awe of the wonderful performance she did on my song, and I can truly say from the bottom of my heart, "Whitney, I will always love you. You will be missed."
Barbara Streisand paid the following tribute to Houston after learning of her death: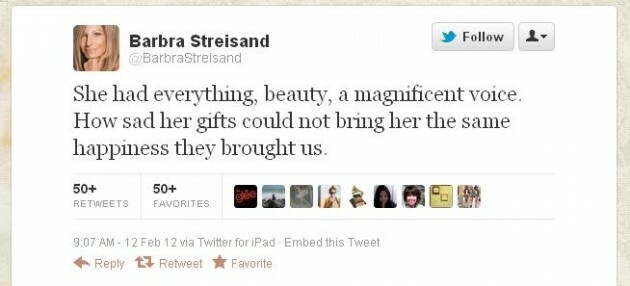 Singer Lionel Richie tweeted: "I am devastated by the loss of Whitney. We have lost a true Angel," while Mariah Carey wrote: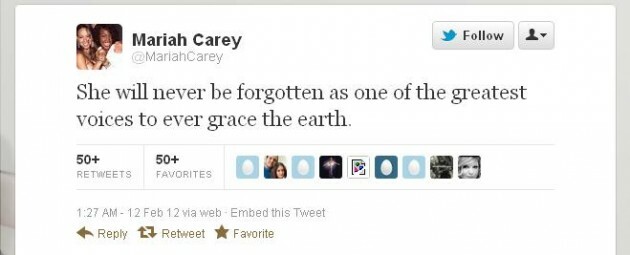 Pop star Pink also paid tribute to the late star on Twitter: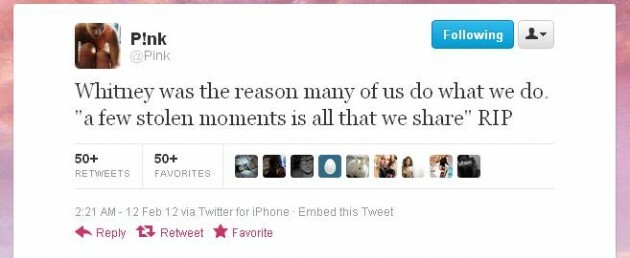 - Additional reporting by the AP