WILLIE O'DEA has saved Christmas!
Well, he's made one lad's Christmas a little bit more festive after he loaned him his phone on the bus to make an important call.
The young man – who we know only as 'Paddy' – was on the bus to Limerick from Dublin this morning, after making the epic trek home from Australia to surprise his family for Christmas.
He had been travelling for 36 hours and sent a message to the Ray D'Arcy Show on Today FM using his iPad, telling them about his plans.
The team there attempted to get in touch with him to hear his story but he was unable to take the call on his Aussie mobile.
He messaged back: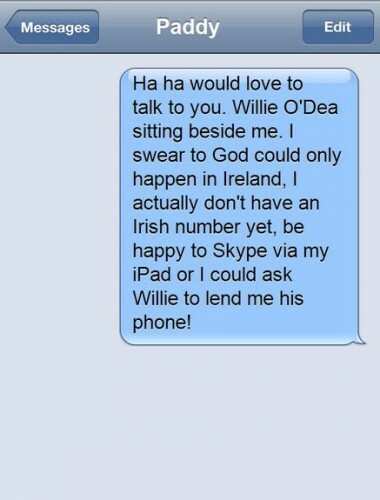 In stepped Willie, who was on the early bus home after staying in Dublin last night to appear on the Vincent Browne show on TV3.
Deputy O'Dea told DailyEdge.ie that he was "delighted" to help the lad out:
I got talking to him and it turns out I know his family. I won't say too much because I don't want to give it away.
'Paddy' told Ray that he hasn't been home in six years and that his family think he's spending Christmas in Sydney. He said he had just been emailing his Dad about setting up a Skype call for 25 December.
Paddy's true identity remains a mystery until the reunion with his family takes place. He said some of them are at work today but that some of them might have been listening to the show.
As for Willie, he said he loves Christmas, but fears the unseasonably mild weather has given him the flu. Get well soon!