GETTING YOUR WISDOM teeth out is no joke.
Not only is it very, very painful, but the painkillers leave you vulnerable to saying and doing out-of-character things.
Take Abby Jo Hamele, for example.
A few weeks ago, University of Nebraska-Lincoln student Hamele got her wisdom teeth removed. Following the surgery, Hamele was given pain medication and let's just say she was pretty hopped up on it.
Here's a video of her crying because she mistook her dog for another now-deceased dog.
While jacked up on painkillers, she sent the following garbled e-mail to her college teacher.
It read:
I believe that i relmebmer you said we, as us students, would be able to send you our papers for classss for you to look at over before we turn them in to cColin if we got them to you by the 22nd of Novermber.
I unfortmately got my wisdom teeth sliced outr and have not not been reacting very well to the surgeryy nor the medicatioon i were given/ so I do not thimk that I will be able to habe my paper finisherd by Tuesday at all. Is tehere any way I would be able to send you my paper at any later date??? I wnt to do very good on this paper you know becayse i like to do well in my classes.
And she signed it, "love you bye"
It made perfect sense in her head, okay?
Hamile shared a screenshot of the e-mail on Twitter where it was retweeted thousands of times. She later shared the following response from her teacher, Kevin Patton.
Fortunately he was pretty understanding about the whole thing and had the good grace not to mention the awkward sign-off.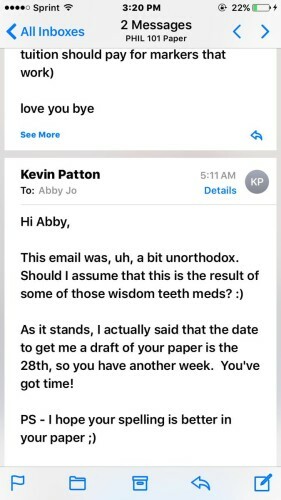 Abby Jo Hamele / Twitter Abby Jo Hamele / Twitter / Twitter
Bless you, Kevin.
DailyEdge is on Snapchat! Tap the button below to add!