TALK ABOUT A spoilsport. A woman plans to do her bit to combat childhood obesity, by handing out letters to children instead of sweets this Halloween.
The woman named 'Cheryl', from North Dakota in the states, told local radio station Y-94 that she plans on giving larger children sealed, but painfully frank letters, in the hope they will reach their parents.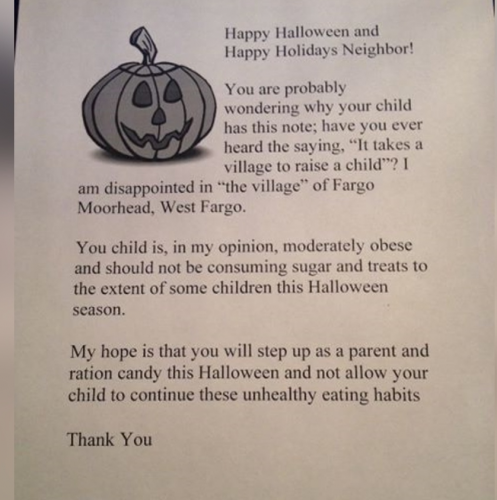 Valley News Live Valley News Live
While smaller children will receive treats, Cheryl says she feels responsible for those gorging on sweets. Speaking on the radio show, she said:
I'm contributing to their health problems and really, their kids are everybody's kids. It's a whole village. I am not denying any of the kids candy. I am just hoping the parents are going to read this and think about it while they watch their kids get into bigger and bigger sizes of clothes.
It's bad enough getting coins or a piece of fruit, but a letter telling you you're fat? Cheryl said she refuses to give stickers or toys in lieu of sweets as she doesn't want to just be the "mean lady" in the village.
I just want to send a message to the parents of kids that are really overweight. I think it's just really irresponsible of parents to send them out looking for free candy just cause all the other kids are doing it.
KVLY asked NDSU professor of clinical psychology Dr. Katie Gordon if the letter could possibly be beneficial in the way Cheryl hopes.
It's just that kind of thing that for some kids, if they're vulnerable, might trigger major problems.
The professor added that you can't judge someone's health or exercise levels based on appearance alone, while an NBC poll shows an overwhelming amount of people disagree that such moves will help fight childhood obesity.
Even if a child is overweight, they might be very healthy because of what they eat and how they exercise. It's ineffective anyway because it's not likely to help the kid.
It's hard to understand the woman's motivations, so could it all be a hoax? Just a Halloween trick?
The Blaze question the authenticity of the call and say the reluctance of the station to speak about the letter says a lot. However, Corey Schaffer, one of the show's hosts, told Fox News that they would be following up with the woman on Friday to see if she goes ahead with the plan.
According to the Grand Forks Herald, a former employee is convinced that the call was a hoax, saying that such calls are "their shtick, that's their thing, it's what they are kinda famous for."
Listen to the full phone-call below and decide for yourself:
The Morning Playhouse
h/t to Reuters