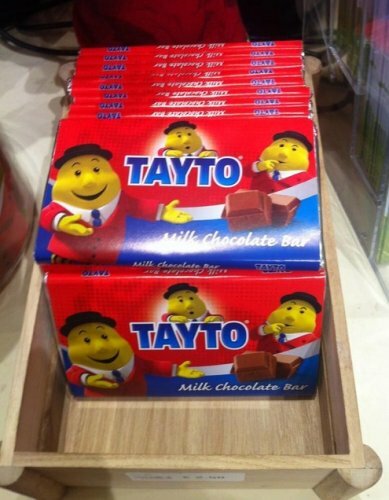 (Pic courtesy of @WaffleWaitress)
Updated 2.25pm
A CRISP FLAVOURED chocolate bar? That can't be right can it? Yet right before our eyes is a Tayto chocolate bar.
If it's got your stomach churning… NEVER FEAR. Mr Tayto himself has confirmed that the chocolate bar contains no crisps whatsoever. He told DailyEdge.ie
I thought that as crisps and chocolate together is such an Irish tradition, why not bring out my own bar? It's not crisp flavoured! Just nice milk chocolate so you can eat it with crisps if that floats your boat.
WE'LL TAKE 57!
The bars are only available at Tayto Park in Ashbourne in Meath at the moment. It's like Ireland's very own Wonka Bar
- H/T to @WaffleWaitress for the picture