PANCAKE DAY IS here! Or Shrove Tuesday. Or just another day for you to eat pancakes.
Either way it's a chance to celebrate all that is wonderful about pancakes. And where better to do that but on YouTube?
First of all, if you really just want to cook some pancakes there are lots of great recipe videos.
We recommend this one from Chef John who is both hilarious and informative.
He'll give you great tips on your basic pancake cooking and say things like "You've heard the expression being able to read body language, here you have to able to read bubble language".
Amazing.
foodwishes / YouTube
If you're feeling super decadent then this clip on how to make red velvet pancakes (!!!!) will blow you away.
There's some oddly sexy backing music and lots of loving close ups of the pancakes being made. It will leave you really hungry and possibly in need of a lie down.
sheenalyoung / YouTube
Now if you're making pancakes you're going to need some background music.
Jack Johnson has this song about pancakes.
There aren't many lines about pancakes sadly. Must do better Jack Johnson.
Aqualung1989 / YouTube
Then there's a parody of Rebecca Black's Friday but about pancakes. It's called Pancakes! Wonderful.
JamesatWar / YouTube
The pick of the lot is this weird wonder though which uses stop motion and an oddly infectious melody.
GiR2007 / YouTube
There's even a sequel!
GiR2007 / YouTube
Mind you, pay heed to the cautionary tale of Chilly Willy, the cartoon penguin who tries to order $60 worth of pancakes with no money. Oh dear:
Cerati / YouTube
And in today's odd pancake twist, did you know that pancakes formed an early part of the stand-up routine of Zach Galifianakis?
His first ever network TV appearance in the US in 2000, involved a line about "pancake mix" (he'd already been using it in his stand-up shows and did for years after, pancake mix jokes from 5.10)
homersapa /YouTube
Not only that but it was picked up a fan who used it against a religious protestor at their college. The clip then went viral. The power of pancakes.
If that's left  you starving for pancakes but too lazy to cook them here's a video explaining why having a pancake machine is really helpful.
vasseghy / YouTube
Or maybe, like most things related to food, you'd prefer to watch Nigella show you the best way to prepare pancakes.
Her guide to making instant pancakes is not only helpful but, like everything Nigella does, oddly hypnotic to watch. Her. voice. is. so. relaxing.
millionairesrbak / YouTube
The main thing is not to make a mess. There are plenty of videos of people failing to make pancakes on YouTube but this one is impressive for the sheer level of pancake destruction.
They don't even seem to be really trying to make the pancakes, look at them just throw them over the shoulder so carelessly. The cheek:
Xx250GTOXx / YouTube
Either way, enjoy all the pancake action today, here's hoping you have as much making/eating them as Susan Boyle did: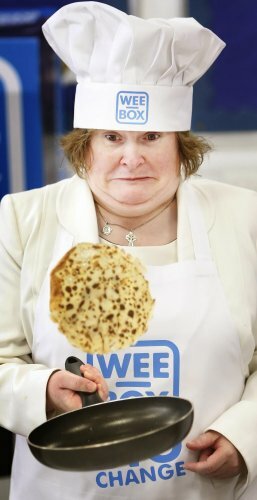 Danny Lawson/PA Archive/Press Association Images