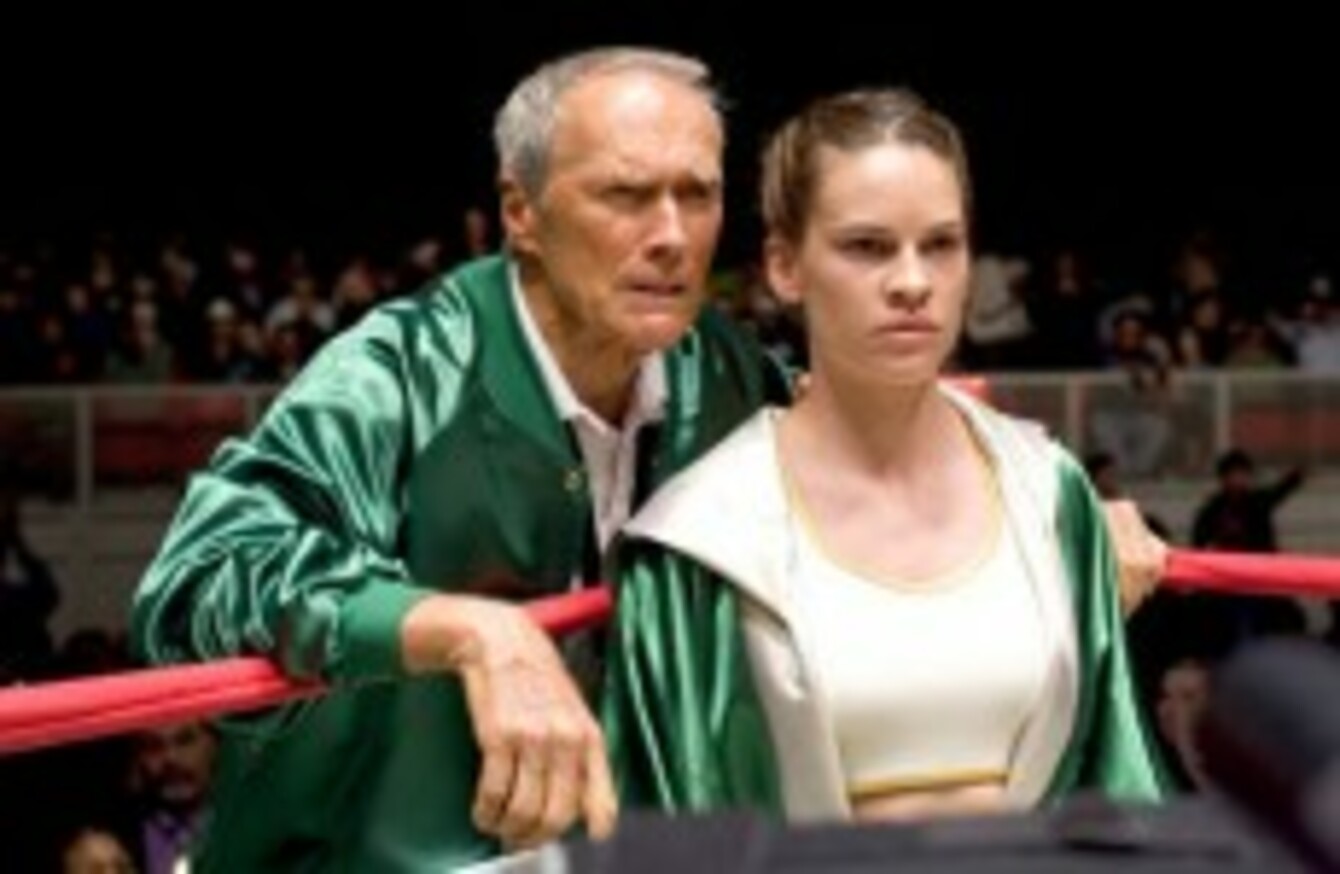 Clint Eastwood takes former Melrose Place sweetheart Hilary Swank and trains her up in Million Dollar Baby
Image: Warner Bros Pictures
Clint Eastwood takes former Melrose Place sweetheart Hilary Swank and trains her up in Million Dollar Baby
Image: Warner Bros Pictures
WITH USHER CONFIRMED by Rolling Stone mag to take on the role of legendary boxer Sugar Ray Leonard in an upcoming movie – TheJournal.ie got to thinking -  what other unlikely celebrities have taken on boxing roles in the past?
Here is a round-up of some of the actors we never thought would be hard enough to get into the ring…
Daniel Day Lewis – One of our own. Having seen him so well spoken in the Wharton classic The Age of Innocence and recently in the musical Nine you would find it difficult to remember him in the roughed-up drama The Boxer. But he did us proud – showing that he can do the rough with the smooth.
(Via YouTube/oldhollywoodtrailers)
Will Smith - He first sprang onto our screens as The Fresh Prince of Bel Air and who would have thought that one day the gawky little kid in '90s breakdancing clothes would be playing Muhammad Ali in the biographical movie. Some loved it – some hated it, either way he showed he was committed to the role bulking up massively for the part. His portrayal of the legendary boxer even got him an Oscar nomination for lead actor in 2002.
(Via YouTube/timeforarevolution)
Denzel Washington – One of the best looking men in Hollywood, why would he want to risk that pretty face in a boxing movie?  However it was a good move for Washington as his role playing Ruben 'Hurricane' Carter, a boxer who was jailed for over 30 years for a murder he did not commit, won him an Oscar nomination for the role. (It seems the Academy like the boxing movies)
(Via YouTube/movieclips)
Hilary Swank – A mixed bag of an actor. A woman who has chosen some gems, like Boys Don't Cry, and some stinkers, like P.S. I Love You. This actress showed that she could box as good as the boys, in Clint Eastwood's movie Million Dollar Baby. Her performance as Maggie Fitzgerald won her the Oscar for Best Actress.
(Via Youtube/movieclips)
Mickey Rourke – So he isn't unlikely, we know, but this actor just deserved a shout out for being the one actor that is definitely suitable to all films boxing or wrestling related.  Before the plastic surgery he took time out of his acting career to try his luck as a pro boxer. His short-lived boxing career is even captured on foreign TV.
(Via YouTube/FoxSearchlight)