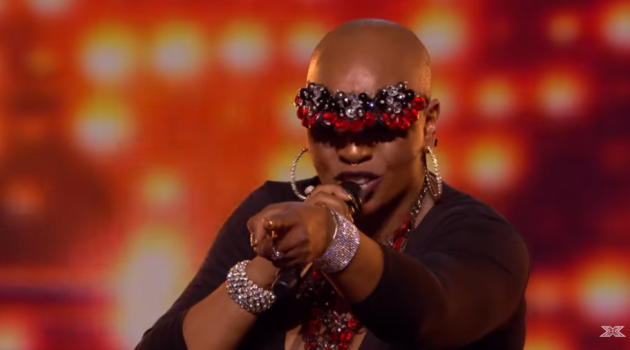 ITV ITV
THE X FACTOR has finally returned to our tellies, for better or for worse. 
There were plenty of mixed opinions about the talent show on Twitter last night, particularly in relation to the new lineup of judges. 
There's a bird with puffed lips, a lad in a Burberry shirt and an old fella cooling himself with a handheld fan...is it the #xfactor or a bingo night at Barnsley social club?

— deborah powell (@deborahpowell17) September 1, 2018
The X Factor has become the Robbie Williams show and i couldn't be more fucking happy. #xfactor

— Jack (@JackGisepi) September 1, 2018
Not all viewers were impressed. 
This is the WORST epiosde of #xfactor I have EVER seen in my life

— Megan Matthews (@megmatthewss) September 1, 2018
But Simon Cowell had a little trick up his sleeve.
The first episode featured all of the usual types of auditions, but also featured a contestant of which we have never seen the likes. It was Livin' Joy vocalist Janice Robinson, who came all the way from New Jersey to perform her biggest hit, 'Dreamer'.
When asked what brought her to the UK, Janice replied, "It started with a song I wrote about 23 years ago. It's a song called 'Dreamer'." At this point, the judges played dumb and let Janice begin her performance. 
Once the music started, everyone in the audience realised exactly what was going on, and they loved it. 
The X Factor UK / YouTube
Unsurprisingly, Janice got the 'Yes' from all four judges. Viewers at home were really impressed, and most people seem certain already that Janice has this year's competition in the bag. 
DO THIS FOR THE NEXT 12 WEEKS AND YOU'VE WON #xfactor pic.twitter.com/KDsnQ0JUCU

— Toby Earle Toby Earle Toby Earle Toby Earle Toby E (@TobyonTV) September 1, 2018
There was some serious confusion about why Janice was allowed on the show, however.
Hold up! Hold up a minute! I thought if you had previously had a record contract you couldn't audition for the xfactor so why was Janice Robinson just allowed through? #XFactor #rulechange

— Laura Simpson (@littlelaursimps) September 1, 2018
Errrr excuse me... how is Janice Robinson allowed to be on the x factor if she has previously had a record deal and is known for a pretty famous song... #XFactor #somethingsnotright #professionalsinger

— Kirsty Schofield (@KirstySchofiel4) September 1, 2018
Why is Janice Robinson on this show?? Dreamer was one of the biggest hits of the 90s #xfactor

— Sarrah (@MissSarrah) September 1, 2018
Back in the third series of The X Factor, Jamie Tinker was accepted into the competition and merged into a boyband called Avenue, despite the fact that he had previously signed a recording contract with Sony BMG. There was plenty of criticism at the time, but ultimately it was not against the rules of the show. 
In Janice's case, the recording deal is much less of an issue, considering the fact that her contract with Warner Bros. Records terminated in 2006. 
Despite all of this, there are still plenty of people wondering why Janice auditioned for the show, when her hit 'Dreamer' is already very well known. 
In an interview with the Sunday Mirror, Janice explained everything. Robinson revealed that her 16-year-old daughter Kura developed a condition called pseudotumor cerebri, in which the pressure in the brain increases. As a result, Kura had to undergo four eye operations and brain surgery. 
Janice said that Kura told her "Mommy, please go do X Factor. No matter what happens you need to go." Kura's condition has now left her blind and has left Janice with some hefty medical bills. Janice has turned to crowdfunding to cover the remaining €41,000 that she has left to pay.
eurodancerulz / YouTube
According to the Daily Mail, Robinson is hoping to gain success in the industry once again so that she does not have to worry about medical bills anymore.
On top of all of that, Janice just wants to be a pop-star again. She told the Mirror, "It's important for me to be known as Janice Robinson." 
DailyEdge is on Instagram!