LAST NIGHT'S EPISODE of First Dates contained all of the usual laughs.
If you missed it, there was a young woman from Louth on a date with a lad, who asked her what her favourite county to visit was, apart from her home county. Her response? Carlingford. Which is not even a county and literally also in Louth. 
If the video won't play, click here. 
Meanwhile, another couple, seemed to be having a lot more luck on their date. Peter, who was originally from Poland but now lives in Drogheda, decided to calm the nerves with a vodka and Red Bull before his date showed up. Bit extreme, but to each their own and all that.
RTÉ RTÉ
And in walked Rory, who was looking for the love of his life – someone he could settle down with and have 2.3 kids and a nice home with.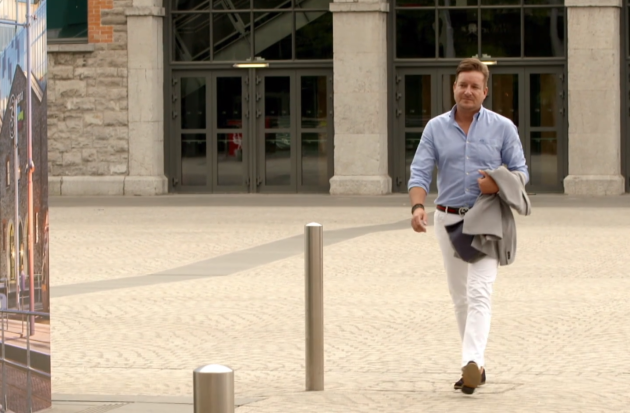 RTÉ RTÉ
It didn't take long for the two men to realise that they actually knew each other already. In fact, the moment they met at the bar, they both expressed how glad they were that they had been matched. When Peter went to the bathroom, Rory explained to the waitress, "We've chatted before. Just online. We'd never met before." Rory was pretty impressed.
D'ya know what? He's a lovely guy. I'm actually glad, and he even said the same! The banter has been really good. I'm happy. I'm really happy. I do believe in fate. I think he's a lovely guy. 
Meanwhile, Peter was in the bathroom on the phone to his friend, who he had previously been talking about Rory to. 
Do you know who is my date? RORY! From Belfast! We're actually having great fun. I love it. Yeah, I love him!
Peter was happily throwing the word 'love' around on this first date, and Rory didn't even seem uncomfortable about it. 
If the video won't play, click here. 
The pair of them chatted about their families, Peter's dreams of becoming a paramedic and how his mother overcame her homophobic attitude towards him. When the food arrived, the waitress joked that the pair of them needed to lean back in their seats so she could fit the food on the table, because the pair of them were so close to each other during the date. Amid the banter, they stopped for a selfie with her, which was quite cute.
When they went outside for a chat after the meal, there was no shortage of flirting. 
The pair of them still couldn't get over how they felt destined to be on that date, and how fate wanted them to be together, etc. etc. There were some sex jokes too, but they were received very well. Rory admitted, "I actually liked him more in the flesh than I did online." 
He has a real glowing personality. Everything about him is lovely. We connected so much, like it was unreal. 
If the video won't play, click here. 
At the end of the date, there was no question, whatsoever, about whether these two would see each other again. Instead of heading to the usual nightclub to keep the night going on, they went back to Balbriggan and Peter smacked Rory on the arse when they were getting into the taxi – which was a bit much. Can't see that going down well on any first date, never mind one that is being filmed and televised. Maybe that's where things started to go wrong, because in the update video from last night's episode, it looked like Rory and Peter were finished.
Rory said that he really enjoyed the experience, but he was now in Lanzarote with a chap he had met over the Christmas holidays who he thinks could be the one. "I have to say – for the first time in my life, he's just perfect." Peter, on the other hand, was still in Drogheda and he's preparing to become a paramedic in the University of Limerick. He still chats with Rory, but it wasn't meant to be. 
If the video won't play, click here. 
If people who had that much chemistry on a date decide to remain friends, what hope does anyone else have? 
DailyEdge is on Instagram!