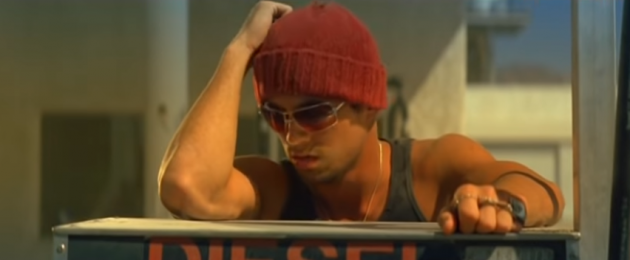 Every time one of these songs came on, you looked like this.
WE ALL HAVE at least one song that we took way too seriously when we were children. You know, one of those songs that would come on the radio when you were in the car at nighttime and you'd look out the window and pretend you were in a film. One of those songs. If you can't admit to doing that, you probably take yourself too seriously. 
After I got home from work one night and found myself whistling What If God Was One of Us while preparing a sandwich for myself, I thought of how much I loved that song as a kid (but how silly the content of that song is now, in hindsight) and I decided to ask my friends and followers on Instagram what their equivalent was.
Little did I know, they were going to help me build the greatest playlist ever. Here's a list of the best responses I received:
Whatcha Say by Jason DeRulo 
Adam's Song by Blink 182 (This was mentioned at least 4 times)
Where is the Love by The Black Eyed Peas
Beautiful by Christina Aguilera
An Innocent Man by Billy Joel
Unfaithful by Rihanna
White Flag by Dido
Kids by MGMT
She Wants to Move by N.E.R.D
Wherever You Will Go by The Calling
Seventeen Forever by Metro Station
Hero by Enrique Iglesias 
Human by The Killers
Heaven by Cascada 
Bleeding Love by Leona Lewis
I Bruise Easily by Natasha Bedingfield
Mama by The Spice Girls
Metamorphosis by Hilary Duff
Stickwitu by Pussycat Dolls
Flying Without Wings by Westlife
My Immortal by Evanescence 
Too Lost in You by Sugababes
Bring Me To Life by Evanescence
Concrete Angel by Martina McBridge
Fix You by Coldplay 
Can't Fight the Moonlight by LeAnn Rimes
Nothing Else Matters by Metallica
Stole by Kelly Rowland (Also mentioned at least three times)
What If God Was One of Us by Joan Osborne
Pieces of Me by Ashlee Simpson 
What Would You Do by City High
Ironic by Alanis Morrisette 
When You're Gone by Avril Lavigne
Obviously by McFly
Ghetto Gospel by Tupac and Elton John
Family Portrait by Pink (Basically any Pink song works here, so we're throwing more in)
Who Knew by Pink
Just Like a Pill by Pink 
Don't Let Me Get Me by Pink
Breathe Easy by Blue
Leave Right Now by Will Young
Aaaaaand finally, the very best one of these songs: Dry Your Eyes by The Streets
Here it is on our Spotify profile, for you to follow to and listen to any time you're feeling sorry for yourself. 
Well, that basically looks like if The Love Zone on Q102 was aimed at millennials instead of sad mams drinking wine at home. That'll be us some day guys, don't worry. 
DailyEdge is on Instagram!