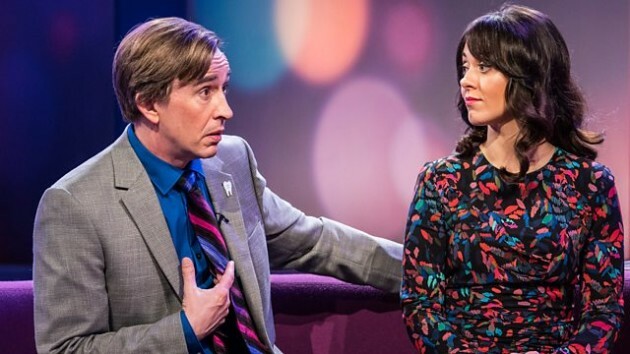 BBC BBC
IF YOU'VE SEEN a single episode of This Time with Alan Partridge, you'll know that the bumbling and bitter chat-show host played by Steve Coogan has been trying to move on with the times. 
In the second episode, Alan was more than happy to point out that sexual misconduct, is in fact, bad. Why? Because This Time's former host John Baskill had passed away, and Alan was just a tad resentful of how much of the show's attention Baskill was receiving in the in memoriam special the BBC had arranged for him. 
It's safe to say that last week's episode had caught the attention of many viewers, after the whole Come Out Ye Black and Tans thing that made headlines and inspired belly laughs from Irish viewers, so the pressure was on to impress once again with last night's episode.
Last night's episode of This Time featured a segment on feminism and the #MeToo movement, which began in 2016. Alan was desperate to get on board and paint himself as the Cool Guy who understands why feminism is important (particularly because it makes him look a lot better than his fictional predecessor, John Baskill). As you know, the more desperate Alan becomes, the more fragile his sense of tact becomes. 
The makeup crew for this show clearly had a bit of fun with the Martin Brennan character on last week's episode, and they got to mess around with Alan again this week, when he was left like a disaster video from the Kylie Jenner lip challenge after a severe allergic reaction to oysters:
In the spirit of Alan himself, viewers on Twitter were calling for a second series after last night's episode… 
And British comedian and writer Matt Lucas even had to admit, "This week's Alan Partridge was the funniest thing I've ever seen on television, ever." A fan asked, "Fawlty Towers good?" to which Lucas replied with a tick. 
The reception from critics was just as positive. Independent.co.uk gave it five stars and said: 
Here the viewer finds his/her self in a dilemma – to laugh or be appalled, to laugh with or at Alan, or both. 
Given Partridge's status as a practical example of that lethal male combination of arrogance and incompetence, the chosen number [sang by Alan's mixed vocal harmony group The Quavers], "Sisters Are Doin' It For Themselves" felt entirely justified. 
The Telegraph remarked on how humorous it was that fictional Radio 4 feminist Dee Gillhooly was introduced as "a more palatable Caitlin Moran", while pointing out that the best laughs were saved until the very end. 
This was in danger of being the least successful episode of the series so far, until it snatched comedic victory from the jaws of defeat with some late masterstrokes. 
Once again, the devil was in the detail. The shot of the receptionist scowling at Alan in the opening titles had suddenly been replaced by one with a rictus grin. Blink-and-you'll-miss-'em malapropisms included "clantily scad beauties" and "tash hag me too". We also learnt the secretes of Alan's enviable luxriant coiffure: "Short back and sides, teased and volumised over the crown." 
Next week will be the very final episode of the first series, and the response the show has received over the last five weeks is reason enough for you to go and catch up before the final episode, because fans of Knowing Me, Knowing You will know that Alan likes to go out with a bang – so save the best for last. 

DailyEdge is on Instagram!