30 ROCK STAR Alec Baldwin has called on British Prime Minister David Cameron to resign.
Today Cameron faced questions from MPs over News Corporation's bid to takeover BSkyB, reports the Telegraph, while he also said that he regretted hiring former News of the World editor Andy Coulson.
Alec Baldwin has obviously been following developments in the phone hacking scandal. Earlier today he tweeted about Cameron "yammering on about overrreactions hurting a free press. It's not about that. It's about criminality".
He later referred to a "criminal conspiracy" before declaring that: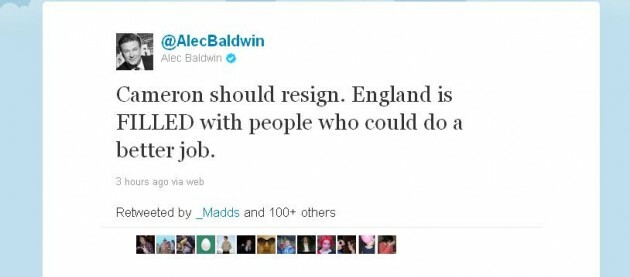 The actor also replied to some of the responses to his call for Cameron's resignation. One tweeter told him to "stick to acting douche" and said he was "like the annoying sports fan that thinks he should be a coach".
Baldwin responded with:
Could Baldwin be considering entering politics himself? Last month he was suggested as the perfect high-profile candidate to run for the Democrats in New York's mayoral race next year. He also sent a cryptic tweet which read: "It's a long way till November of 2013″.
Earlier this week he asked Twitter "who should be the next mayor of the City of New York", with some suggesting that 30 Rock characters Jack Donaghy and Liz Lemon would be perfect for the job, according to the Washington Post.