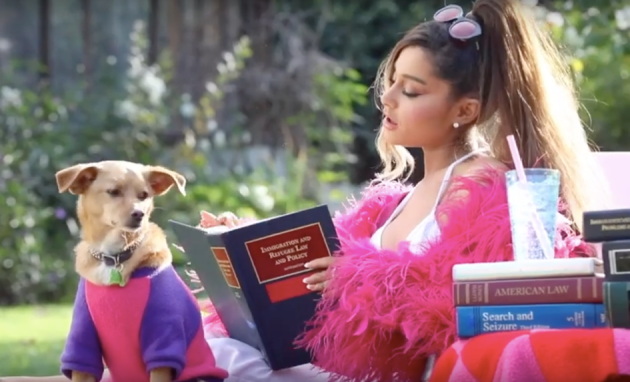 AS JUVENILE AS it is, we're all guilty of taking sides in a celebrity breakup every now and then. You might think you're above it, but you definitely have at least SOME feelings about Brad Pitt and Jennifer Aniston's split back in 2005 that you probably still carry with you until this day. 
So when Ariana Grande and Pete Davidson broke up, we were admittedly just a tiny bit relieved that Ariana Grande, an angel who is far too good for this world, had stepped away from her romantic relationship with Pete Davidson, the man who made countless tasteless jokes about his relationship with the singer and used the Manchester bombing as a gag at one of his comedy sets in 2017. 
When the split was made public, there was plenty of speculation about what brought things to an end. Could it have been Pete's inconsiderate comments? Was it the stress from Mac Miller's sudden tragic death? Who knows. It's literally none of our business. But surprisingly, shortly after Ariana Grande and Pete Davidson separated, the 25-year-old singer released her gracious breakup banger 'thank u, next'. 
In the song, Ariana thanks all of the men she has previously dated while in the public eye. From Big Sean and backup dancer Ricky Alvarez, to Mac Miller and Pete Davidson, Ariana has nothing but kind words. 
Thought I'd end up with Sean, but he wasn't a match. Wrote some songs about Ricky, now I listen and laugh. Even almost got married – and for Pete, I'm so thankful. Wish I could say, "Thank you" to Malcolm, 'cause he was an angel. One taught me love, one taught me patience, one thought me pain. Now, I'm so amazing. 
You get the gist. Ariana sees all of her past relationships as milestones in her life which have helped her to grow and become a better person and she's grateful for all of the men she has dated in her life. When this song came out, the world was desperate to know who the hell Ariana Grande's therapist was and how much an appointment costs. This is easily the most grownup, mature and considerate pop breakup song of our time and it only makes Ariana more admirable and likable. 
Ariana Grande` / YouTube
Ariana Grande has nothing but respect and appreciation for her ex-boyfriends, particularly Pete Davidson – her most recent partner, to whom she was briefly engaged. Over the course of Ariana and Pete's relationship, Pete dipped in and out of Instagram, regularly deleting his account and all of his photographs before returning and starting afresh. 
A day ago, Pete returned to Instagram to promote his upcoming film Big Time Adolescence which will air at Sundance in 2019. He simply wrote "See you at Sundance muthafuckas #bigtimeadolescence" on the set of photos he uploaded of him and his cast-mates, including rapper Machine Gun Kelly. Pretty innocuous, right? The guy's moving on with his life. 

Ariana Grande stans could not deal with this, and decided to spam Pete's Instagram post with thousands of comments that read "thank u, next", which is not only weird as heck, but completely misses the point of the song. As of today, Pete has yet to upload any other Instagram photos, but chances are he's going to be reading the words "thank u, next" for a long, long time. 
DailyEdge is on Instagram!