Amazon Amazon
AMAZON REVIEWS have long been places for people to rip the piss and entertain other Amazon customers, but this particular review has strayed into horror movie territory.
A customer called Adam penned this review of a gaming headset in May of this year, but it's currently going hugely viral on Imgur and Reddit: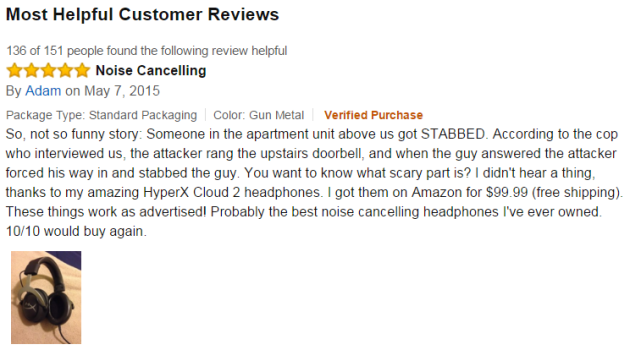 Amazon Amazon
So, not so funny story: Someone in the apartment unit above us got STABBED. According to the cop who interviewed us, the attacker rang the upstairs doorbell, and when the guy answered the attacker forced his way in and stabbed the guy.
You want to know what the scary part its? I didn't hear a thing, thanks to my amazing HyperX Cloud 2 headphones. These things work as advertised! 10/10 would buy again.
Er, WHAT? Well, good to see he's recovered from the incident enough to wax lyrical about headphones, anyway.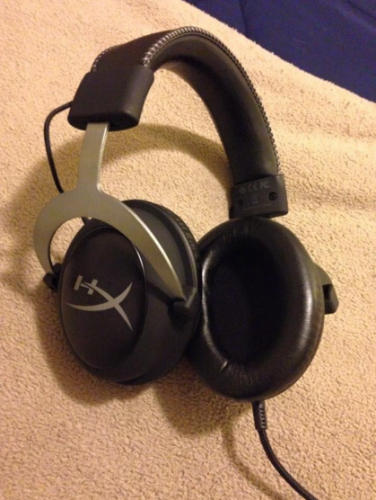 Amazon Amazon
But the facts of the story were called into question by Amazon customer Mike P, who is pretty sure the headphones wouldn't drown out the sounds of death.
Yeah, but these headphones aren't noise-cancelling. The microphone is noise cancelling so people shouldn't hear background noise when you're talking to them. But the headphones are not noise-cancelling.
Another customer couldn't help but agree:
A few weeks ago a man got thrown out of the window of the apartment directly above mine, and my pair of HyperX Cloud 2 headphones was not able to cancel out the sounds of the window breaking and the man's neighbour crying out for his friend to wake up.
Oh Amazon. Never change.