A FOSSIL SKULL of an ancient crocodile found off the coast of  Dorset belongs to an unknown species.
The unknown beast was flattened for 130 million years in limestone and dates back to when dinosaurs walked the Earth. It is thought that the animal would have lived with other crocodiles as well as turtles and fish in a lagoon at Purbeck, Dorset.
Dorset is not all that far from Ireland so were there any crocs once roaming in Ireland?
Speaking to TheJournal.ie, the Keeper of The National History Museum of Ireland, Nigel Monaghan said:
In the Jurassic Period when this crocodile was alive, Ireland was mostly if not entirely under water. There were species of Jurassic crocodile that lived most of their lives at sea and probably swam over Ireland. There were certainly even larger reptiles in the oceans then including a group known as pliosaurs.
He said that The National History Museum has their own fossils of Irish crocodiles in their collections but that none are unfortuately on display.
We simply haven't got the space since we lost our fossil exhibition gallery beside the Natural History Museum, this was demolished in 1962 to make way for the Dáil restaurant complex.
The  National Museum's skull of the largest pliosaur will go on exhibition in the Ulster Museum in April along with a robotic dinosaur exhibition they are hosting for the summer. The seven metre long pliosaur is called Rhomaleosaurus cramptoni (Crampton was a famous Irish surgeon)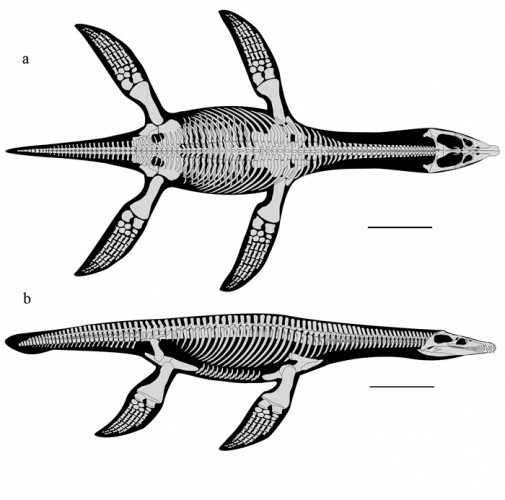 Reconstruction of the Rhomaleosaurus cramptoni
(Image via Dr Adam Smith)
Here are some more crazy animals that once roamed the Irish countryside. Imagine if some of these beasts were to walk past you while on a quick stroll at the weekend. Alas they are no longer with us…
The Giant Irish Deer – This giant extinct deer was the largest deer species ever. The deer were almost two metres tall at the shoulder and would have weighed up to 800-900 kilos. The final extinction of the Irish deer came about 10,600 years ago when a cold phase of climate, lasting about 400 years caused changes in the vegetation of the island, about two thousand years before man arrived in Ireland.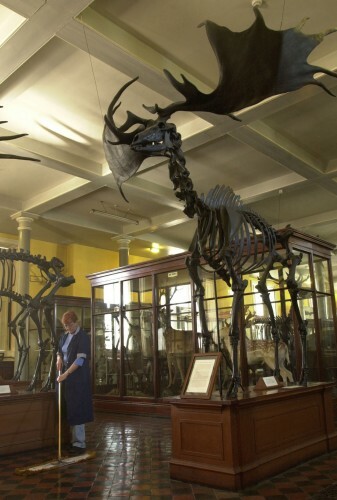 A cleaner is dwarfed by the remains of a Giant Irish deer, on show at the Natural History Museum in Dublin.
(Haydn West/PA Archive/Press Association Images)
The Great Auk – We all love the penguins and what would have been better than having something similar right here on our shores but unfortunately these guys no longer swim in our waters. This flightless bird inhabited the rocky coasts of the North Atlantic in areas like Scotland, Ireland and Iceland. The last sighting of this bird species was in the mid 1800s. The Great Auk is one of the most valuable specimens in the Trinity College Zoological Museum . There are only 18 specimens of the now extinct, Great Auk left in the world, and only one in Ireland.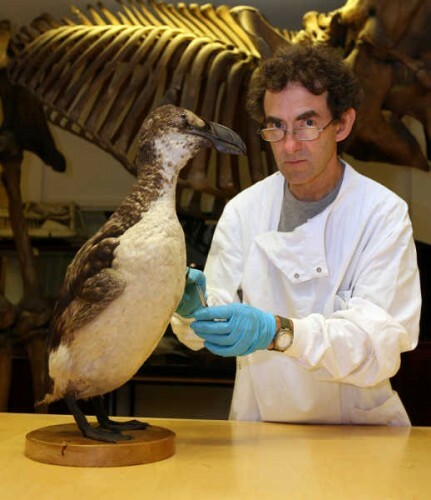 Lancashire conservator, James Dickinson is in Trinity College Zoological Museum to carry out crucial conservation work on Ireland's last Great Auk, which became extinct in 1844, 165 years ago.
(James Horan/Photocall Ireland)
The Irish Wolf – These fierce animals were once a common feature in our folklore and stories. Dick Warner writes in The Examiner that the fate of these beautiful creatures was sealed in the 1600s and Oliver Cromwell is probably responsible. Apparently Cromwell was not a fan of all the wolves he found when he landed here in Ireland (perhaps fearful he would see the same end as Little Red Riding Hood's granny). He placed a bounty on them - £5 for a male wolf and £6 for a female. The numbers of Irish wolves began to decline once people knew they could get a few bob for them.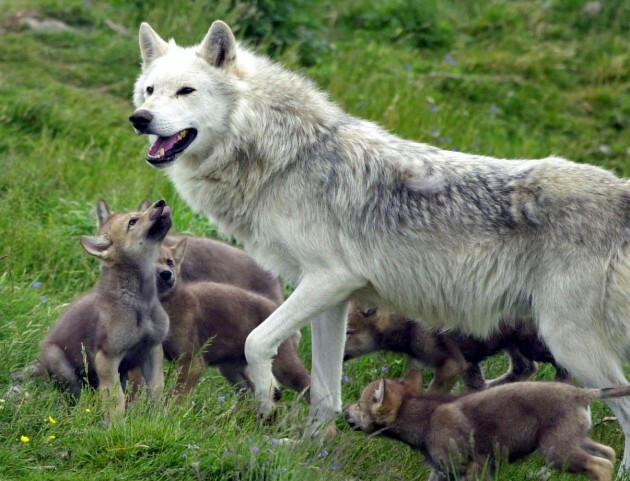 Scotland's only wolf pack, father Tor with his six new cubs, making their debut at the Highland Wildlife Park at Kincraig.
(David Cheskin/PA Archive/Press Association Images)