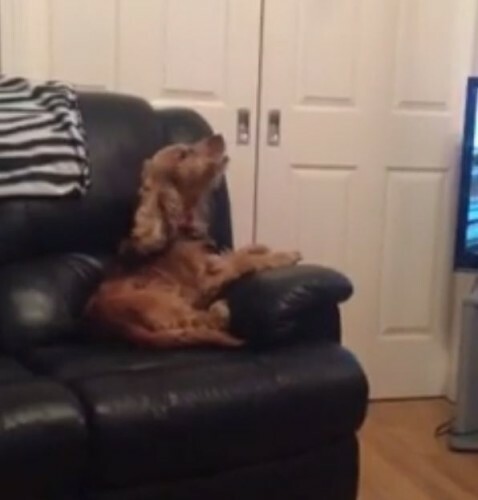 Tia Duffy Tia Duffy
MEET DUMBO the dog.
Dumbo likes to watch the Angelus on TV every day. It gives him feelings. And he can't resist singing along:
Dumbo's owner, Tia Duffy, told DailyEdge that he "sings to it every day".
And what's more, so do lots of other dogs. Yes: The Angelus is making dogs all over Ireland lose their shit and just start howling. It's like those singalong screenings of Frozen, but for dogs.
Take Zelda, for instance:
Zelda howling to the #angelus on #rte #zeldathemonsterdog #boxador pic.twitter.com/U8lxRjKiHv

— Lisa Jane (@dormanlj) March 9, 2016
And Stevie:
Kim Buckley / YouTube
And this dog, whose name we unfortunately don't know:
@DaveTodayFM what did the angelus ever do to my pagan dog. #666 pic.twitter.com/PXf4b35gNG

— Emmet Dalton (@bomber333) September 12, 2015
Say what you like about the Angelus: it obviously stirs a lot of dog emotions.
Everyone ready? YOOOOWWWWWLLL:
Brian Dolan / YouTube
DailyEdge is on Snapchat! Tap the button below to add!