AN AUSTRALIAN MAN has spoken out after he was asked to leave an event at his old secondary school for dressing 'inappropriately'.
https://www.facebook.com/angus.mccormack.5/posts/1026989620723110
Angus McCormack, who is openly gay, accompanied his father to a service at a Cathedral in Bendigo, Victoria, last week.
McCormack wrote that he is known for his 'bold' dress sense, and joked that he was originally considering "rocking a dress and some killer heels" but toned down his look for the event.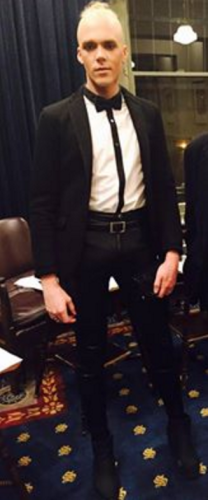 Facebook / Angus McCormack Facebook / Angus McCormack / Angus McCormack
"I decided to wear minimal makeup, a small earring, neat black leather pants, a white shirt with a black bow tie and black designer jacket," he said.
"A suit by any definition of the word, although not in the typical commercial fabrics."
Nevertheless, as soon as he arrived he was asked to leave:
Upon my arrival at the Cathedral, after greeting a lot of excited staff and students on my way in, I was approached by the deputy head at the aisle and without even greeting me she told me I was "inappropriately dressed" and commanded that I "leave the event".
To avoid further embarrassment and a potentially ugly scene, I decided to graciously turn away and walk out. Although my father as a board member (at the time, he has since resigned) had duties to perform at the service, he was so disgusted… that he departed with me to support me in my rejection.
McCormack said that his family was extremely upset by what happened, and he is saddened to have been turned away by the school he was once "so proud to be associated with".
His Facebook post about the incident has been shared thousands of times, and while some people support his choice of outfit…

…Others have said it looks more suited to a nightclub.

Headmaster Matthew Maruff has since released a statement, telling the Bendigo Advertiser that it is an issue of "dress code for occasion and institution, not one of sexual discrimination".
At no time, past or present, has Angus been discriminated against on grounds of sexuality in any way by Girton Grammar School… It's about context. What we would call a lounge suit would be the appropriate attire.
Maruff says he'd like to sit down with McCormack and his family to "make sense of it together", adding that the whole situation is "regrettable".
"We really do celebrate diversity… From my point of view this is very regrettable and really sad."
DailyEdge is on Snapchat! Tap the button below to add!