ARIANA GRANDE IS really taking no shit these days. After tearing Piers Morgan a new one last week, she hit out at a fan yesterday when they claimed she was 'milking' her ex boyfriend Mac Miller's death. 
i pray you never have to deal with anything like this ever and i'm sending you peace and love.

— Ariana Grande (@ArianaGrande) 25 November 2018
some of the shit i read on here makes me sick to my stomach. it scares me the way some people think and i don't like this world a lot of the time. if only we could be more compassionate and gentle with one another. that'd be sick.

— Ariana Grande (@ArianaGrande) 25 November 2018
like fuck

— Ariana Grande (@ArianaGrande) 25 November 2018
Ariana certainly doesn't hold back when it comes to tweets. 
When a fan said she had a big forehead, she didn't sit in silence  
No, shut up.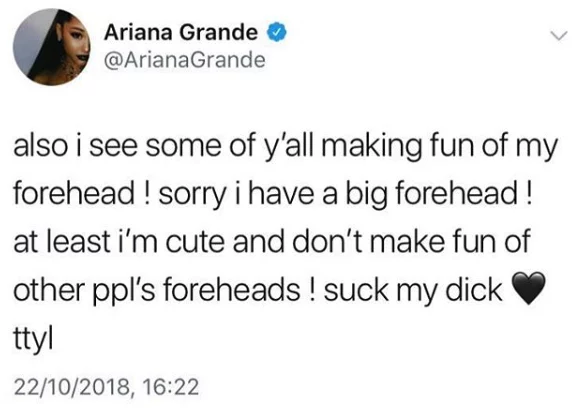 Twitter, screenshot via Buzzfeed Twitter, screenshot via Buzzfeed
When a commenter said they were sick of her ponytail 
When fans weren't impressed with a song on her new album named Pete Davidson 
Or when she commented on engagement rings on Instagram
Let's take it way back now to this horrific burn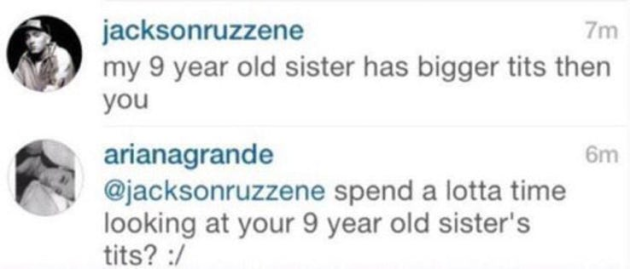 She had no time for the girl who ate her tampon in a viral video questioning why she's famous 
Yeah, it's a lot to unpack. 
@ItsGiovannaP Not for eating my own used tampon, that's for damn sure.

— Ariana Grande (@ArianaGrande) 23 January 2013
Don't question how she looks, either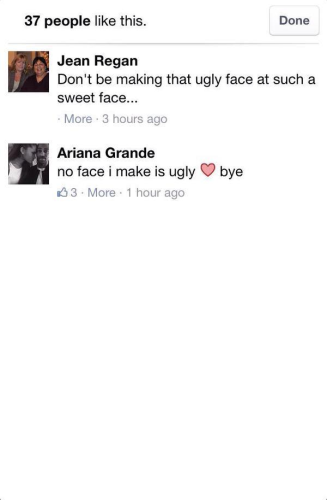 Facebook Facebook
Don't come for her music videos, while we're at it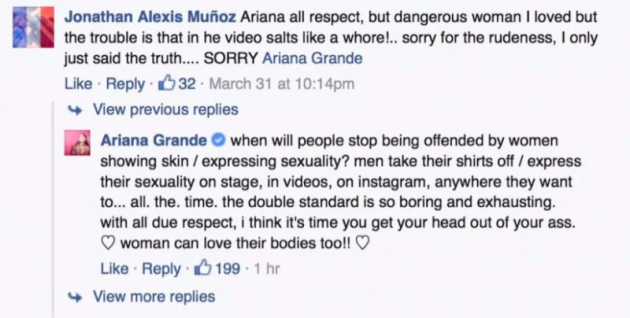 Screenshot via Punkee Screenshot via Punkee
When someone leaked her album, but didn't look after their nails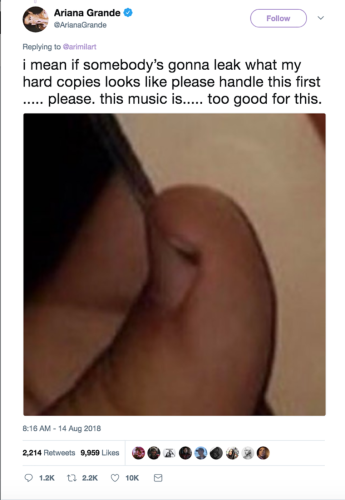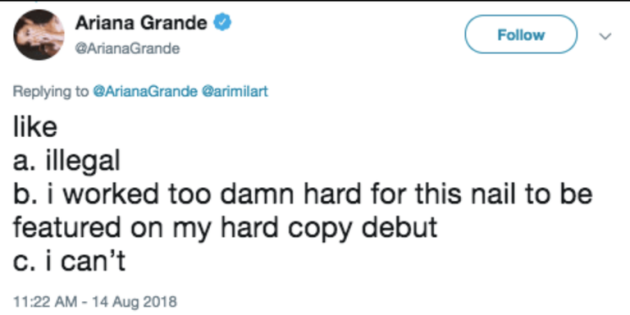 She wasn't having anyone accusing her of being responsible for Mac Miller's DUI back in May 
Even Bette Midler got a clapback when she was less than complimentary to her
She wasn't here for rumours that she and Nicki Minaj were rivals due to the same release dates
jesus is this what's going on today? imma jus stop logging in at all lmfao. that's my fucking sister. she's clearing a sample. buy and stream queen & sweetener aug 17 bye. these numbers don't mean as much to the artist as they do to y'all. jus want y'all to listen to the project.

— Ariana Grande (@ArianaGrande) 1 August 2018
When a guy did a male version of 'Thank u, next' and butchered it, she had this to say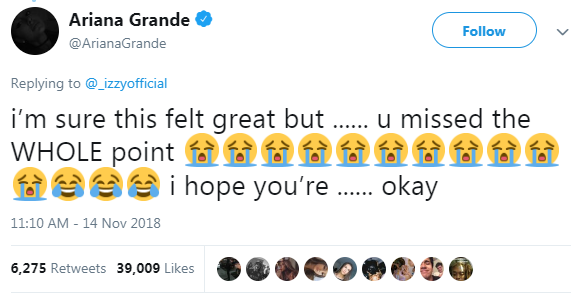 Finally, she had a great comeback to this fan who bodyshamed her 
here we go again.... Sure I'm not the only 1 feeling this way today!! in case you need a reminder, you're beautiful🌬 pic.twitter.com/OPQIgzroEI

— Ariana Grande (@ArianaGrande) 2 November 2015
Basically, think twice before you @ Ariana. 
DailyEdge is on Instagram!