PIERS MORGAN HAS been acting his usual gowl-like self this week. 
The broadcaster criticised Little Mix's most recent single, 'Strip' in which the band pose nude while being branded with the hurtful jibes that have been thrown at them since their careers began.
Speaking on Good Morning Britain this morning, he said: "If men stripped off like that we'd be arrested but women do it and it's 'empowering'.
They're stripping off to sell albums, that's what it's about. The rest of it is baloney."
Now, Little Mix's Jesy Nelson already succinctly summed up the general population's feelings on the matter, by referring to Piers as a "silly twat" in a live radio interview with Nick Grimshaw on BBC Radio 1.
Now, however, Ariana Grande and her mam have joined the fight. You wouldn't get this on pay-per-view, lads.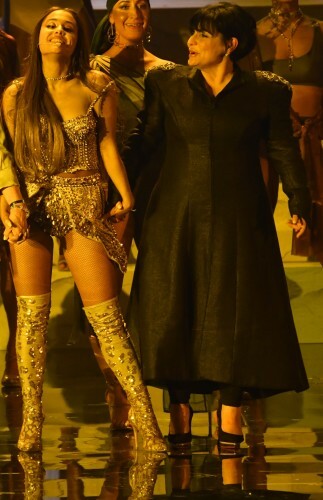 PA PA
So, after demanding an apology off Jesy, Piers continued to tweet about the girls, claiming they ripped off the Dixie Chicks:
Having her say on Twitter, Ariana's mam Joan responded:
Honestly what is wrong with you @piersmorgan ? Didn't your mother ever teach you, if you have nothing nice to say, don't say it! You came for @TheEllenShow yesterday which was disgraceful, she is an angel. @LittleMix today, did you ever hear of paying homage? And..well never mind."
To which, unsurprisingly, Piers had a response. Shocker.
Hi Joan, my mother taught me to speak my mind & never be afraid to express honestly held opinion. 
Ellen's a hypocrite – and as for Little Mix, I'd just prefer they use their talent to sell records rather than their nudity. As your own daughter does…!"
At this point, Ariana decided to jump in and attempt to put him in his place.
"Also @piersmorgan, I look forward to the day you realize there are other ways to go about making yourself relevant than to criticize young, beautiful, successful women for everything they do.
I think that'll be a beautiful thing for you and your career or what's left of it."
What a spicy exchange of a Wednesday evening.
DailyEdge is on Instagram!