LAST WEEK, LITTLE Mix released Strip; their response to the barrage of body-shaming they have endured since coming to public prominence back in 2011.
Ian West Ian West
Indeed, in recent years, the four-piece, who were the first group to win The X Factor, have been particularly vocal about the pressure they feel as women in the entertainment industry, and the scrutiny they're been placed under by the press and public alike.
Jesy Nelson was branded 'the fat one', Jade Thirwall was photoshopped to such an extent she considered surgery, Leigh-Anne Pinnock felt invisible due to her ethnicity and Perrie Edwards was reluctant to show her scarred torso on account of consistent public backlash.
Together, they have been slut-shamed, body-shamed and costume-shamed.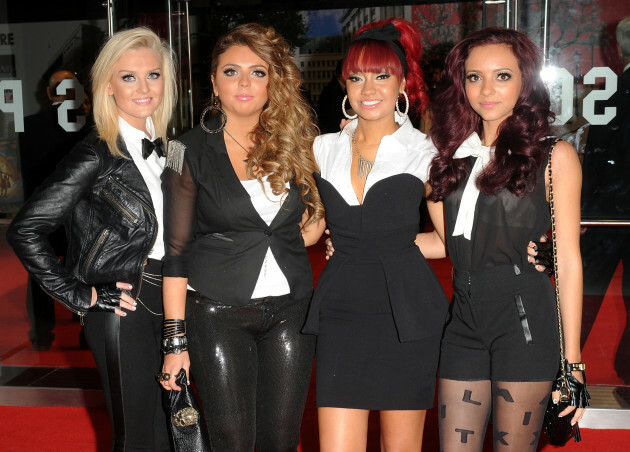 PA Archive / PA Images PA Archive / PA Images / PA Images
Their tracks, albums and performances were regularly reduced to little more than their physical appearances on stage and in video.
And in an effort to counter this narrative last week, the girls shed their clothing, daubed their body in the slurs they have been subjected to over the last seven years, and sang:
Take off all my makeup cos I love what's under it/
Rub off all your words don't give a f**k I'm over it/
Jiggle all this weight, yeah you know I love all of this/
Finally love me naked. Sexiest when I'm confident.
Sure, it's not especially original; TLC did it back in 1999 with Unpretty, Girls Aloud touched on it in Beautiful Cause You Love Me, and Beyoncé addressed it in Pretty Hurts, but as long as female entertainers exist, so too will excessive scrutiny and tracks which address the issue.
And while we may not know Piers Morgan's opinion of the aforementioned tracks, his scathing monologue on this morning's episode of Good Morning Britain tells us all we need to know of his take on Strip and its accompanying video.
EMPICS Entertainment EMPICS Entertainment
Critical of the group's approach and cynical of their message, he argued that the four women were using their bodies to sell records, and refused to acknowledge the motivation for their track and video.
Speaking on Good Morning Britain this morning, he said:
If men stripped off like that we'd be arrested but women do it and it's 'empowering'.
Arrested? Really?
They're stripping off to sell albums, that's what it's about. The rest of it is baloney.
When challenged by his female co-hosts, Kate Garraway and Susanna Reid, on the significance of the message, Piers dismissed the group's efforts, and immediately provided a physical assessment.
They don't have any flaws, they've been airbrushed to look perfect. They're fake. There's not a mark on them. You can't even see the surgery.
Putting the question to the viewers, Piers asked:
Do you find Little Mix empowering when they strip off and put offensive words all over their naked bodies? Or like me do you find it a cynical assaults on the records market?
In one fell swoop, the broadcaster dismissed the band's efforts. And how did he do it?
By ignoring the message, focussing on the physical and commenting on their bodies.
His critique was based on little more than the aesthetic while his monologue was littered with myriad terms found in the very assessments the four women are railing against; 'flaws', 'perfect', 'airbrushed', 'fake', 'surgery'.
And as he is prone to do, Piers is completely missing the point here.
Little Mix's target demographic are adolescent girls and young women; a group which regularly fall victim to the same types of shaming Little Mix have endured since 2011.
The band know this, and, with the help of other body-positive women in the public eye, they used Strip to reach them. 
Piers ignored the message, and focussed on the physical, and whether he realises it or not, his critique did little more than prove the group right.
DailyEdge is on Instagram!