AISLING BEA AND Sharon Horgan have developed a bit of a cult following in recent years.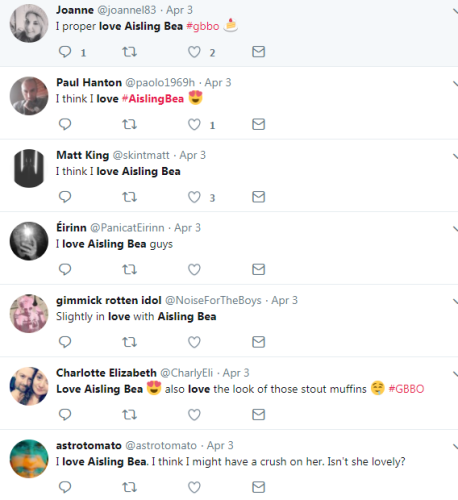 twitter.com twitter.com
At this stage, Aisling Bea looks like the only person who could have a viable chance of taking on Miggedly Higgins for the Presdiency.
In a culture that is saturated in photoshopping and glossy PR spin, the two mná are refreshingly candid about their messy selves and their far-from perfect lives.
In a profile in The New Yorker, Sharon said:
I do think I'm a mess. That's not necessarily a bad thing. It's fuelled all my work, and I'm hoping it will continue to. there is a nervous energy in me that makes me work very hard but that also makes me way overthink things.
The next day, the writer received a 'more upbeat e-mail:'
I feel less messy today. Back to feeling like a badass. Who knows what tomorrow will bring.
The feeling of being a complete mess is one that many adult women can relate to. On some days, you can't find tights without rips in them, you're late to everything, and you find yourself putting used knives in the fridge and full jars of mayo in the bin.
Aisling and Sharon talk openly about the issues that have shaped and are shaping their lives – heartbreak, motherhood, sex in long-term relationships – while still retaining a sense of morbid humour. It is by embracing and broadcasting the fullness of their lives, warts and all, which has endeared their fans to them.
In a facetuned world, they are both equally authentic about their blemishes.
So the news uncovered by Chortle  that the women were working on a show together that revolves around anxiety and depression was incredibly exciting: the pair won't be afraid to show the reality of living with a mental illness or helping someone who has one.
The dark sitcom commissioned by Channel 4, which will be called Happy, is written by Aisling and will star her as a woman suffering from anxiety and depression as her older sister Sharon, struggles to take care of her.
Aisling recently wrote powerfully and kindly in the Guardian  about her father, who killed himself when she was three.
Aisling later said in an interview that depression and suicide is something she is ready to talk openly about in order to get others to speak:
The reason I wrote about my dad wasn't to explain anything about myself, it was more to talk about the issue of suicide and depression and all those feelings that go with it. I never talked about it as a kid. You have all these feelings of shame and guilt. And it is always kept so private.
By writing my story I wanted to start a conversation, and I had an incredible response. I felt it was the right time to put it out there.
Aisling's show Happy is set to air in early 2019. The commission is following on from a non-broadcast taster that was shot in December, which featured Shameless's Dystin Johnson and Aisling's actual sister, Sinéad O'Sullivan, as costume designer.
Company Pictures Company Pictures
Aisling first met Sharon when she played her younger sister in Dead Boss, a BBC Three prison sitcom that Horgan co-wrote. Speaking in 2015, Aisling said of their women crush on each other:
Myself and Sharon met for the first time filming the pilot for Dead Boss and we fell deep in love
We can't wait to fall deeply in love with this show!
To contact the Samaritans in Ireland:
DailyEdge is on Instagram!