IT'S PROBABLY NOT the worst surprise guest you can have crash your wedding.
Brian and Stephanie Tobe got married over the weekend in San Diego, and Barack Obama just happened to be playing a round of golf where the wedding was on.
So he came up and hung out with them for a while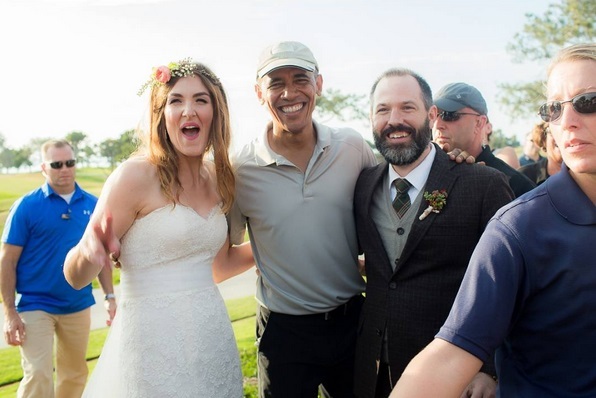 Instagram Instagram
The wedding photographers were Jeff and Erin Youngren, and yesterday they shared the brilliant images on their blog and Instagram.
Erin told the story of how the President happened to crash the wedding:
When we arrived at The Lodge, we quickly found out that the President was playing a round of golf just outside.
Brian and Stephanie were SO EXCITED that he was there. We laughed and joked all morning, and tried to get a peek of him through the curtains, feeling honored just to be at the same location, not expecting anything more than that.
Then the moment arrived, and Obama came up to the wedding party and chatted away to everyone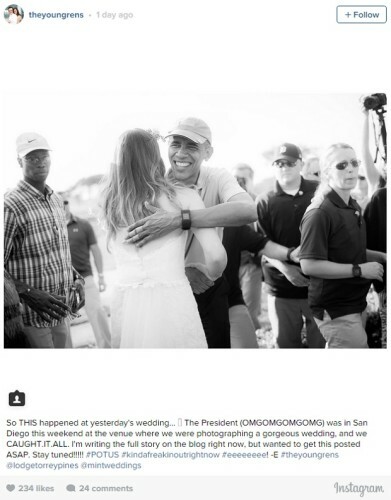 Instagram Instagram
Erin continued the story on their photography blog:
President Obama then surprised everybody and came to shake everyone's hands. My internal fan-girl freak out had suddenly become completely external at this point, and (still on my 135mm lens), I started following him along the crowd.
Eventually Brian and Stephanie – who were inside preparing for the ceremony – had to run outside to meet him.
Brian and Stephanie burst from the hotel, Stephanie sprinting in her navy blue Nina heels and Monique Lhullier gown, their friends and family bust into cheers at seeing them
The full story and picture collectionis well worth a look.
What a special addition to an already special day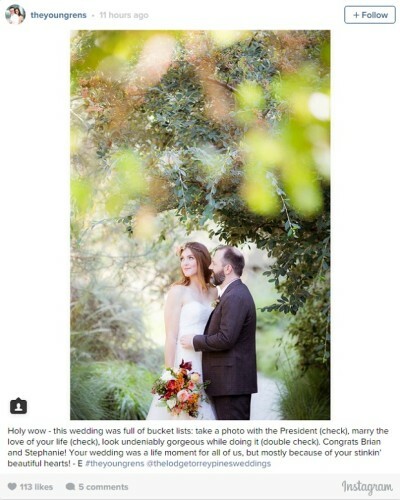 Instagram Instagram
Now we just need Michael D to pitch up to the afters of a random couple in Ireland to match this.
hat-tip Metro