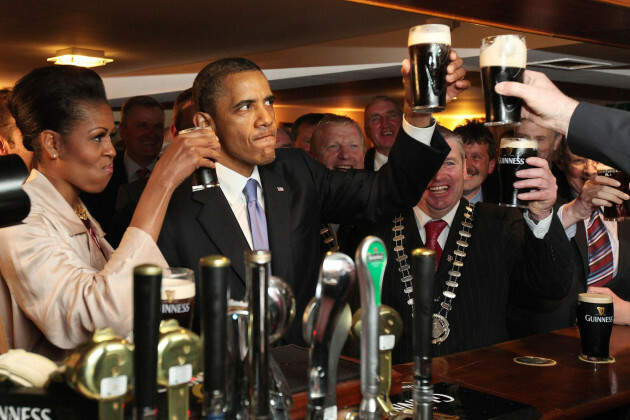 PA Archive / PA Images PA Archive / PA Images / PA Images
BACK IN 2007, US President Barack Obama discovered that his great-great-great grandfather was from a little village called Moneygall in Co Offaly, Ireland.
He visited a few years later to sup a few pints and see his ancestral home… and the idea for Barack Obama Plaza was born. And what an idea it turned out to be.
1. First of all, it's a service station dedicated to Barack Obama. Think about that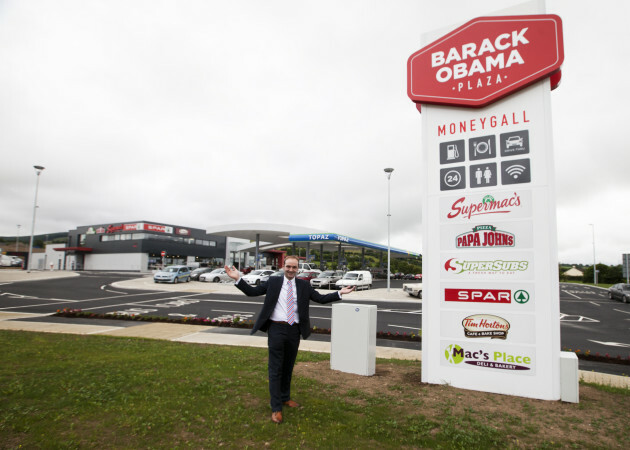 Eamonn Farrell / RollingNews.ie Eamonn Farrell / RollingNews.ie / RollingNews.ie
OK, service station and Visitor Centre with museum and meeting rooms. But still.
2. It's a place of pilgrimage for those disappointed with the election result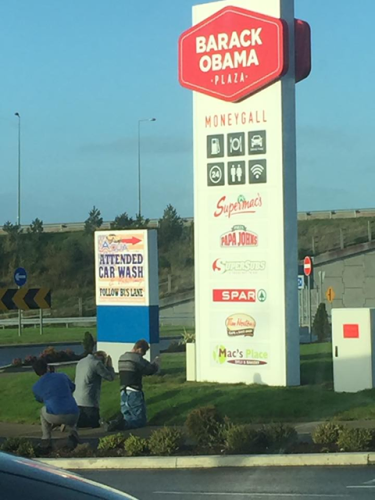 Michelle Madigan Michelle Madigan
Yes, that is a picture of people praying to the Barack Obama Plaza sign, taken days after Trump was elected.
3. And for Irish people just looking for a bit of kitschy craic
Hop in the Barack Obama Plaza sleigh, there's a good lad.
4. The New Yorker thinks it's a hoot
Writer Chris Colin visited Moneygall late last year, and described the rest stop with some degree of awe:
You arrive at the gleaming, glassy Barack Obama Plaza, rising in thrilling disharmony from the cows and hills and green… Inside, diners can find proper Irish meals, in addition to fast food, and a spacious dining room with actual silverware.
Actual silverware!
5. American people can't seem to believe it's real
Chill out guys, it's just a service station dedicated to a US President like. *pops collar*
6. It's the only place in the world where you can get a Barack Obama pin with 'Moneygall' written on it
That bling bling.
7. And this t-shirt (probably)
We'll take six.
8. And eat a Supermacs next to a life-size cardboard cut out of Barack and Michelle
Look at them there, surveying the consumption of so many chicken wraps and Mighty Mac meals.
9. Frankly, it's Obama's finest achievement
No. Shh. There's nothing else. Only the Plaza.
10. And Trump will never take that away from us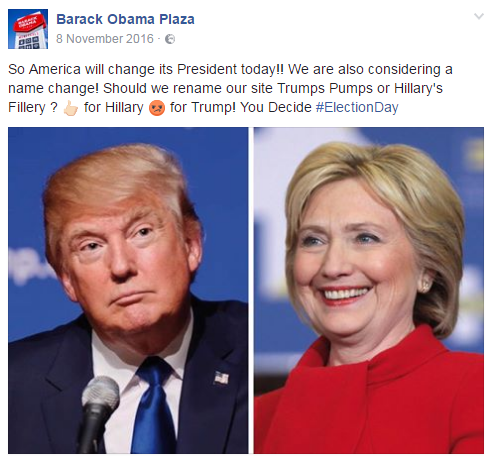 Facebook / Barack Obama Plaza Facebook / Barack Obama Plaza / Barack Obama Plaza
So America will change its President today! We are also considering a name change! Should we rename our site Trump's Pumps or Hillary's Fillery?
We know they were joking but DON'T YOU EVEN DARE. Barack Obama Plaza for LIFE!
DailyEdge is on Snapchat! Tap the button below to add!