IN THE MOOD for a documentary, but don't know where to start?
Here are 19 films well worth your time.
IF YOU LIKE… TRUE CRIME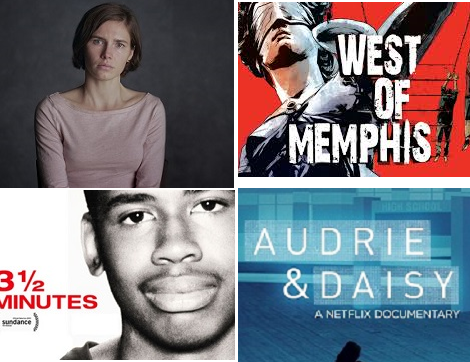 Amanda Knox One of the most talked about documentaries of the year. (Even Kim Kardashian gave it a shout out.) The film revisits the murder of British student Meredith Kercher and the decidedly flawed investigation that followed. Perfect for true crime lovers.
3 1/2 Minutes, Ten Bullets 3 1/2 Minutes, Ten Bullets is about the murder of Jordan Davis, a fifteen-year-old African-American boy. Davis was shot dead by Michael Dunn, a white man, after the two had an argument about loud music. Gripping and heartbreaking in equal measure.
The Witness
West of Memphis A comprehensive documentary about the infamous West Memphis Three case, a miscarriage of justice that saw three teenagers jailed for a crime they did not commit.

IF YOU LIKE… SPORTS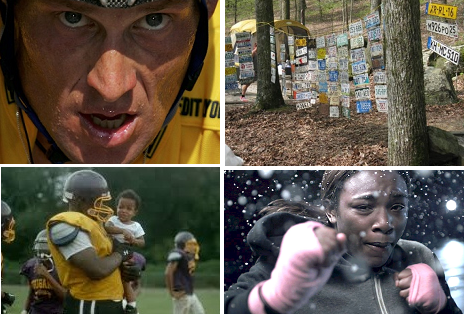 T-Rex Remember Claressa Shields? The Michigan boxer won gold in London 2012 at the tender age of 17. This summer, she repeated that feat and became the first American boxer to win an Olympic title twice in a row. T-Rex is a most enjoyable documentary about how a girl from Flint, Michigan, became one of the most impressive fighters in the world.
The Barkley Marathons Think a marathon is difficult? The Barkley Marathons is an ultramarathon race in Tennessee that is so goddamn hard that only 10 people have completed it in its 25-year history. Watch it and be made feel like a SLOTH.
We Could Be King What happens when two rival high schools join up to play football? Can they prosper under under the guidance of a big-hearted coach? (Seriously, you will fall in love with the coach.) A must watch for fans of Last Chance U.
Stop At Nothing: The Lance Armstrong Story The definitive Lance Armstrong documentary. Stop At Nothing captures the glorious rise and fall of the cyclist. Eye-opening to say the least.

IF YOU LIKE… MUSIC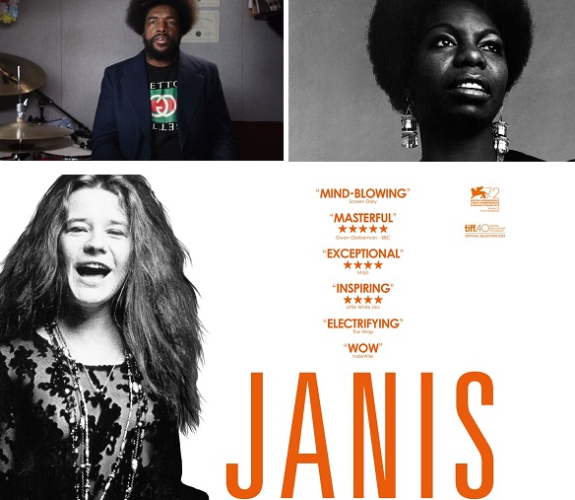 Sample This Fancy yourself as a bit of a hip-hop aficionado? Sample This is about how a forgotten song called Apache helped laid the foundations for hip-hop as we know it. Perfect music nerd fare.
What Happened Miss Simone? Think you know about Nina Simone? Think again. The Oscar-nominated What Happened, Miss Simone? is a compelling look at Nina Simone, the singer, the pianist, the civil rights activist. Will leave you in awe of her and humming Ain't Got No/I Got life.
Little Girl Blue Deadly documentary about the legendary Janis Joplin. *clears throat* TAKE ANOTHER LITTLE PIECE OF MY HEART NOW, BABY

IF YOU FANCY SOMETHING… LOVELY
Advanced Style Sassy/stylish old ladies. What more could you want? 
Spellbound If you get a kick out of watching children spell unfeasibly hard words, then you simply must watch Spellbound. Impossible not to love.
Iris A loving portrait of the brilliantly witty and stylish Iris Apfel, a fashion icon in her nineties and a New York institution.
Beyond Clueless

IF YOU FANCY SOMETHING… THOUGHT-PROVOKING
13th Selma director Ava DuVernay takes a hardhitting look at the American criminal justice system and examines why it is that African Americans are jailed at a higher rate than any other race. Don't be surprised if you see it at the Oscars next year.
Audrie & Daisy A powerful, infuriating film about two high-profile sexual assault cases and the cyber bullying the two victims endured afterwards. Bound to give you food for thought on things like social media and consent.  
She's Beautiful When She's Angry Call yourself a feminist? Educate yourself on some of the founders of the feminist movement from 1966 to 1971.
The White Helmets A documentary about the Syrian Civil Defense, an unarmed volunteer group that aims to "save the greatest number of lives in the shortest possible time" following attacks in Syria.
DailyEdge is on Snapchat! Tap the button below to add!