FOR THE UNINITIATED, Lush is an extremely intimidating shop to set foot in.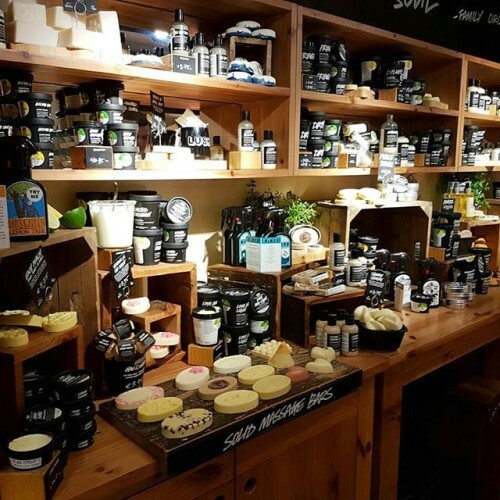 Instagram / lushdublin Instagram / lushdublin / lushdublin
There are lots of smells, lots of colours, and LOADS of products, plus some rather aggressive sales tactics that Irish people aren't quite used to. So where to begin?
With the help of reviews on Lush.co.uk, we've chosen ten top rated products to seek out in store. Good luck!
This mask/exfoliator smooths and livens up your skin while smelling like actual coffee, making it the perfect gift for the coffee lover in your life (or you, whatever works). An anonymous reviewer said:
I didn't think this would make any difference and literally bought it because I like the smell of coffee. But OH MY GOD it works wonders on breakouts.
This is a simple but very effective makeup remover – a small dab can shift the heaviest foundation, while leaving your skin soft and moisturised at the same time. Caro_8 is a convert:
It's so calming and gentle on my skin, and doesn't leave me feeling tight. Quite frankly, it's worked miracles on my skin, which is now almost completely breakout free.
It's also recommended as a tattoo healing cream. Hooray for multi-use products!
This toner contains rose water to calm normal to combination skin, with lavender to hydrate. It can be used after cleansing, or as a refreshing spritz to perk you up during the day. Katey.Kate writes:
I have really sensitive skin so whenever I try a new product I am really wary. I use this after I've taken off my makeup and then I put on moisturiser. My skin has never looked so good!
Instagram / lushsunderland Instagram / lushsunderland / lushsunderland
This serum bar melts at room temperature to deeply moisturise your face – it contains portobello mushroom to help protect skin from damage. Farmerlib has this to say:
It goes on deliciously and the girl at the shop suggested massaging it into spot prone areas to help reduce redness, which completely works.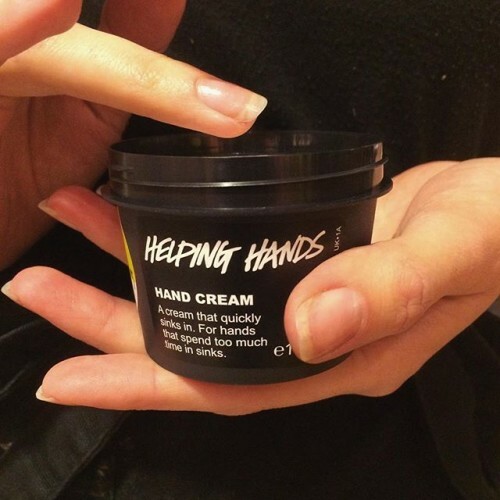 Instagram / lushreading Instagram / lushreading / lushreading
A saviour for those of us with very dry, cracked hands – Helping Hands has chamomile to reduce redness and linseed to soften. Mrsmorgan says it's essential for nurses:
I use this several times a day as I work as a nursing assistant and have dry, cracked skin all over my hands. At least I used to! My hands and nails are in tip-top condition now.
Gals who suffer in summer, this dusting powder is for you. A sprinkle keeps thigh chafing and underboob sweat at bay while smelling lovely to boot. Like all great Lush products, it's multi-purpose, as rosyraincoat_2 demonstrates:
I use it for my hands as they can get clammy sometimes – I also use it on my armpits and now my tops feel amazing and I don't get sweat stains.
This freshly-made mask cleans and exfoliates the skin – peppermint oil gives it a slightly cooling, tingly feeling, as well as a brightening effect. An anonymous reviewer says:
I suggest after 15 minutes when the mask is dry on your face, wet your hands with warm water and use the mask to exfoliate as you take it off – it leaves your skin so unbelievably smooth.
This pink grapefruit-scented shower gel is one of Lush's cult products – reviewer RegalRaptor says it even helps wake them up in the mornings, too:
The grapefruit makes you feel so energised and ready to take on the day. Getting up at 5am for early shifts is made a lot easier when you get to shower with this little gem.
This bath bomb a) smells of peppermint, then warm cedarwood and b) turns your bath into a constellation of glittery pink and yellow stars. Agneslush writes:
I always have to get this when I'm in the store. I absolutely love the fresh, rich smell of this – I feel so fabulous and special, haha.
Crumble a little bit of this into your bath and you'll get loads of bubbles, a gorgeous berry scent, and – best of all – PINK bathwater. It's fab. Foxigami agrees:
I cut the bar into eight chunks and I still get a beautiful pinky-purple water colour and lots of bubbles. The smell is divine!
DailyEdge is on Snapchat! Tap the button below to add!