LAST WEEK, HER Royal Highness Beyoncé Knowles announced that she would be debuting a top-secret project entitled Lemonade on HBO.
Lemonade is scheduled to air tonight and the project itself is still cloaked in mystery.
The teasers have thus far revealed very little about what Beyoncé has in store for us — unless it's just an hour of Beyoncé whispering profound statements like, "The past and the present merge to meet us here" —  but HBO listings describe it as "concert" and it is due to air for 58 minutes.
Yaaaaas.
This all begs the question — is Beyoncé about to Beyoncé us with another surprise album?
Let's examine the evidence, shall we?
Her Tidal artist page has been down all day
According to Beyoncé fan accounts, the page has been down since yesterday evening.
Is Tidal preparing to blindside us with a surprise album tonight? Maybe!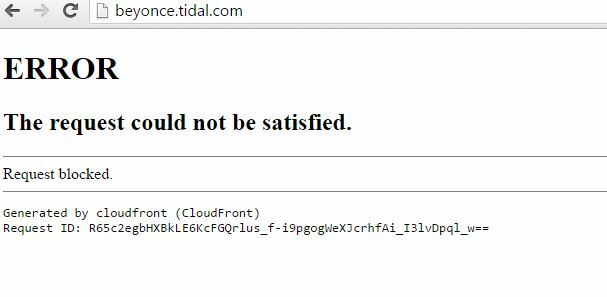 Some fans have reported searching Beyoncé's name and having "Beyonce feat. Kendrick Lamar" and "Beyonce feat. The Weeknd" appear in the search bar
Beyoncé has never recorded a song with either artist. Could they be tracks from the new album?
We consulted Tidal to see if the collaborations were still appearing and they were not, meaning they have either rectified the glitch or this is a hoax perpetrated by someone ho wants to play games with our hearts.
Plus her most recent single, Formation, has just been made available for purchase on Tidal for the first time
A sign of things to come?
HBO's CEO has assured everyone that fans will not be disappointed
Is that because an album is dropping, Richard? Is it?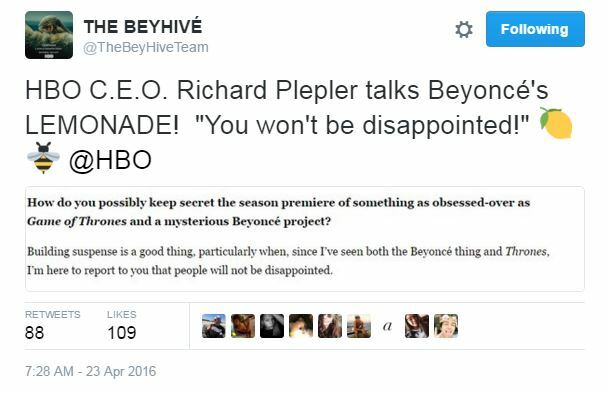 amy amy
One of her most trusted choreographers tweeted this earlier…
JaQuel Knight is the man behind the choreography in the Single Ladies video and if he reckons the world is going to be on fire, we're inclined to listen to him…
Beyoncé's official YouTube channel says there are 120 videos… but there are only 107 videos visible by our count
Which means there are 13 unlisted videos.
VERY CURIOUS INDEED.
One of the internet's preeminent sources for Beyoncé news, The Beyhive, reported back in March that an album was due in April
And what better time to release it than a few days before the Formation World Tour kicks off, eh?
Don't let us down, Bey.
DailyEdge is on Snapchat! Tap the button below to add!