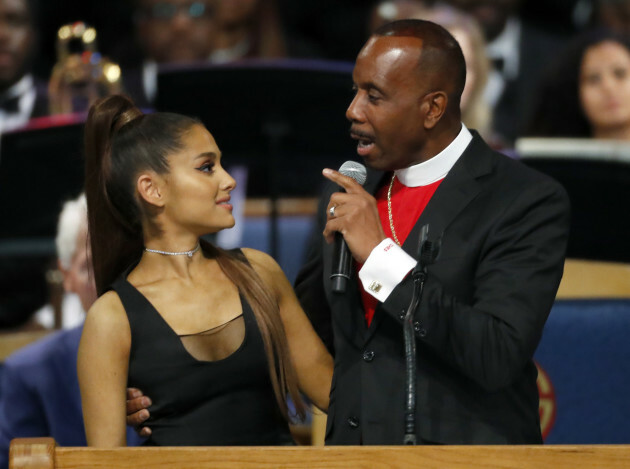 Paul Sancya Paul Sancya
THE FUNERAL OF soul star Aretha Franklin took place yesterday afternoon in Detroit and some of the biggest celebrities in the United States were in attendance.
These celebs included Stevie Wonder, the Clintons, Chaka Khan, Faith Hill, and of course Ariana Grande, who performed Aretha's song '(You Make Me Feel Like) A Natural Woman' during the service. 
Millions tuned in to the 8-hour-long service, which was televised and streamed online. Many were looking forward to Ariana Grande's tribute to Franklin, but were eventually shocked with what they witnessed on stage at the Greater Grace Temple. 
Variety / YouTube
Following Grande's performance, Bishop Charles H Ellis III made a joke about how Ariana's named resembled something 'off of a Taco Bell menu'. 
This was enough to offend some viewers. As the bishop continued speaking, his arm, which was around the singer's back, inched slowly toward Ariana's breast. 
A pastor groped #ArianaGrande at #ArethaFranklin's funeral 👀 Do y'all think it was an accident? #MymixtapeZ pic.twitter.com/3M7HjfSFFz

— My Mixtapez (@mymixtapez) September 1, 2018
If the video won't play, click here.
Many people jumped on Twitter to point out how uncomfortable the singer looked and how inappropriate the whole affair was. Several people also suggested that Bill Clinton had been ogling the singer during her performance.
I can't watch that clip of Ariana Grande getting groped by the pastor again. I feel so sick. Her body language says everything. She's trying to move far away from him but clearly doesn't feel like she can. Men are awful. All of them.

— Chrissa Hardy 🧟‍♀️ (@chrissahardy) September 1, 2018
The worst part is that I know what she's thinking. Every woman knows what she's thinking. 'It's fine. Don't make a scene. He's harmless. This touch is harmless.' It's all on her shoulders to protect herself FROM GETTING GROPED AT A FUCKING FUNERAL. My heart aches for her.

— Chrissa Hardy 🧟‍♀️ (@chrissahardy) September 1, 2018
Ariana Grande was ogled, groped and reduced to a racist taco bell joke on national tv. And I don't wanna hear shit about her dress this gives no one the permission to sexually harassed or viewed them in an inappropriate way pic.twitter.com/A0AZWrbz01

— Euphoria 🌙 (@retrocorvette) August 31, 2018
If you think Ariana Grande wasn't groped, look at this video. And then miss me with your reasons why it was appropriate for a bishop to grab at a young woman under the arm and inch his hands toward her breast at a fucking funeral. #Receipts https://t.co/qtcKxDt7QO

— Tracey Lynn Lloyd (@ImTraceyLloyd) September 1, 2018
Wild how all we can talk about is the length of Ariana Grande's dress while she's literally getting groped by the pastor on stage and checked out by Bill Clinton on live television.

It's truly sickening how much y'all hate women 😡

— bianca (@buy_me_things) August 31, 2018
Make no doubt about it. Ariana Grande was groped on worldwide television by a pastor. It was disgusting. The men will soon wake up to lie about what everyone else saw.

— Yoli (@aNameToCarry) August 31, 2018
Imagine being at Aretha Franklin's funeral, a woman who fought for civil and women's rights, only to be groped and assaulted by a priest. That's religion for ya.#ArethaHomegoing #ArethaFranklinFuneral #ArethaFranklin #ArianaGrande #assault #typicalpriest pic.twitter.com/hAOKgoNc5W

— Jhobbs (@JJHobbs12) August 31, 2018
In total, there were 90,000 tweets shared under the hashtag #RespectAriana after the incident. 
Following the uproar, Bishop Charles H Ellis III issued an apology. 
In a statement to AP, Ellis said that perhaps he had "crossed a border."
It would never be my intention to touch anyone's breast. 
The bishop also said, "The last thing I want to do is to be a distraction to this day. This is all about Aretha Franklin." Ellis also apologised to the Hispanic community for his comments about Ariana Grande's name. 
Ariana Grande has yet to make any public statement on the incident.
DailyEdge is on Instagram!