Welcome to Skin Deep with Louise McSharry, my opportunity to put years of obsessing over beauty products and techniques to good use. I won't tell you something is good if it's not. I won't recommend products I haven't actually tried. As the magical sitar in Moulin Rouge said, I only speak the truth. 
If you read this column regularly, I hope you've noticed that I try to come from a place of accessibility. So much beauty writing assumes a base knowledge that it can feel alienating if you don't have it. Perhaps you don't know what 'baking' or 'contouring' is – that's ok!
That doesn't mean that makeup isn't for you, and I want you to know that. One term I am always using though is 'blending'. In fact, I never stop going on about it, and that's because it is the basis of almost any good makeup look.
Occasionally makeup is about graphic lines and sharp edges, which is cool, but most of the time we want the products we apply to look like they simply emerged from our faces like a soft mist on a summer's morning. (I can't stop thinking about summer, please god when will this tyrannical winter end?!) For that reason, I decided it was time to talk about blending, and to given you some basic tips which will help you get a flawless finish. 
Blending is a technique which is used all over your face, whether you're applying bronzer or blusher. It essentially means the product looks seamless on your face, and there is a gradual development of it rather than a harsh line between where it is on your skin and where its not. The place where it really comes into play is on your eyes, when using eyeshadow, and in order to get it right, you really need some decent tools.
Makeup brushes have come a long way over the last ten years. It used to be that you either spent a lot of money on good ones, or you had to make do with cheap harsh ones which didn't do a great job, but these days you can get really good brushes at reasonable prices.
I've written extensively about them here, but the basic gist is that you used to have to buy natural brushes made with animal hair to get a good finish, but these days synthetic brushes are the business and are much cheaper to manufacture so we've got better options. What matters is that the brushes are the appropriate shape, that they're soft, and that they don't shed.
Companies like Real Techniques and Blank Canvas offer excellent alternatives to spendy brushes, but if you want to splash out I love the look of this new range and makeup artist Leonard Daly recently told me that Trish McEvoy brushes are the ultimate (so now I obviously feel like I have to have them).
ephr brushes are 'hand crafted by artisans in Japan' *Homer Simpson drool face*
When it comes to shape, consider the effect you want the brush to have. If you're applying product to a small area, then you want a small brush as it will allow you to be more precise. The denser the brush is, the more intense the product application will be, while a fuller, fluffier brush will diffuse product more gently. On the eyes, I tend to use a small dense brush to put the product where I want it, before using a larger, fluffier brush to blend out the edges. You will never get an effective blend with a small dense brush.
One crucial step which has nothing to do with the brush you use is the way your eyelid feels. If you apply a powder product to a lid which has nothing on it, you may get an inconsistent finish if your natural oils are inconsistent on the lid. A damp spot will cling to product whereas it will glide over a dry spot. For that reason, I like to very lightly powder my eyelids (too much powder and there'll be nothing to grip on to) before I begin, meaning the surface is consistent. If I want to apply a smokey eye using just one shadow (as I have in the picture accompanying this piece), I start by dusting with powder before using a flat dense brush to apply the shadow on the lid up to the crease and under the bottom lash line, before using a larger brush to blend out the edges, meaning the concentration of colour is greatest at the lash line and then diffuses outward.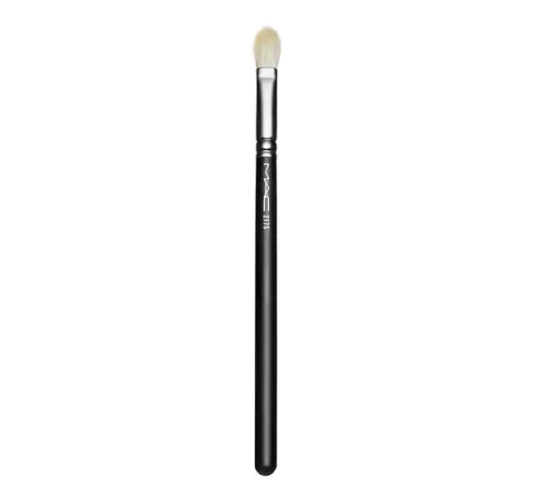 The MAC 217 blending brush is an industry favourite for seamless eye looks
Hold the brush lightly, with your hand at the end of it rather than up the top near the bristles. This will ensure a gentle touch, which will move the product lightly and leave a soft finish. If you want the product to move gradually outward into a sort of wing, move the brush in tiny circles along the edge of where you've applied the product outward from the inside of your eye, however, if you want the product to essentially stay where it is, but with a seamless edge, move from the outside in. Keep your circles small and take your time. 
When it comes to the rest of your face, the rules are essentially the same. Buffing in circles with a soft brush will diffuse any harsh line, but the fingers can also be effective when using cream products. This goes for blusher, bronzer or highlight. Gentle tapping motions along the edge of where you've applied the product will help them blend into the rest of your face. It's worth keeping in mind that some products will blend more easily than others. Creams for example, and powders with a slightly creamy texture really lend themselves to blending, while true powders will take a little more time.
Truly, if you can master blending you can master a professional finish with your makeup. As with everything, practice makes perfect, so don't be too hard on yourself if you're not immediately getting the finish you want. You'll get there. Slow and steady with a gentle hand will get the results you want!
New Product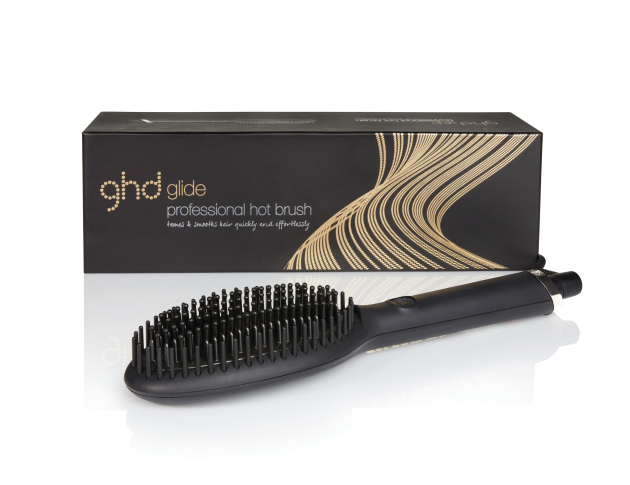 GHD are lashing out new gadgets left and right these days, and their latest is the GHD Glide, a heated brush which promises to take bed head to smooth, glossy locks in minutes. Heated brushes have been growing in popularity of late, which really is no surprise, they are the lazy girl's best friend. This one comes at a higher price point than most already on the market, at €139, but that's what we've come to expect when we're paying for GHD technology. It is limited edition, and is available from today on the brand's website and will also be available in selected Peter Mark salons nationwide from February 18.
Want to get a notification every week when Skin Deep is published? Of course you do! Just send us a WhatsApp saying 'Skin Deep' to 083 8120901, and add our number to your contacts as DailyEdge. (If you don't add us, we can't message you :( ) We'll never spam you or share your personal details with anyone, and you can unsubscribe at any time.
DailyEdge is on Instagram!