IT'S SAFE TO say that Blindboy Boatclub of the Rubberbandits is probably one of the most popular people around at the moment.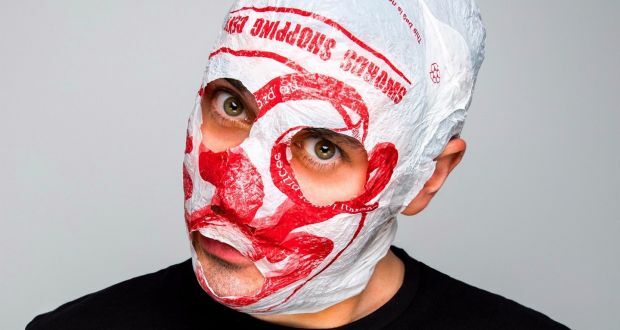 Acast Acast
His uncanny ability to articulate what nearly everyone is thinking is unparalleled and something that is sorely needed in Irish society.
His podcast, 'The Blindboy Podcast' which he started last October has gained over 2,300 5-star ratings on iTunes alone. It has stuck firmly to the top of the iTunes charts for the last 19 weeks straight , beating Bryan Adams 16 week reign atop the British charts with his song 'Everything I Do' in 1991.
The very healthy chart of listeners to the Blindboy Podcast. Thank you everyone who's been recommending it to friends pic.twitter.com/KX95cOO0cp

— Rubber Bandits (@Rubberbandits) February 23, 2018
Ranging from topics to the Bebo culture of 2006 to an in depth looking at the racist troupes used in 'Robin Hood: Prince of Thieves, the podcast is incredibly engaging and gives the listener what Blindboy proudly calls 'a podcast hug'.
In particular the live episode with Donzo from DC Walking Tours in Belfast is an incredibly interesting conversation about Northern Ireland which wouldn't be heard anywhere else.
The listenership of the podcast is continuing to grow with approximately 150,000 weekly listeners and a million listens worldwide according to the man himself.
The podcast is approaching 1 Million listens worldwide. Thank you all

— Rubber Bandits (@Rubberbandits) January 15, 2018
And yet despite all this success, Blindboy cannot find a main sponsor for the podcast. Instead he has set up a Patreon account where listeners can donate 'the price of a pint or a cup of coffee every month' to keep the podcast going.
Unlike other podcasters, he's not putting extra content behind a paywall with listeners allowed to choose if they want to pay for the podcast or not.
BRANDS. I've a podcast with 150K weekly listeners. This rivals ANY of the big Irish radio shows. It badly needs a sponsor. It's an art/culture podcast. It's been number 1 in charts every week since it started.Are ye right in the head?? Please email sales.uk@acast.com

— Rubber Bandits (@Rubberbandits) 19 January 2018
With just over 1,500 patrons, Blindboy has said he can almost make a living off the podcast but the question still stands as to why he cannot find a sponsor.
Blindboy's use of language isn't exactly 'family friendly' but if that hasn't put listeners off, then it shouldn't put sponsors off either. Particularly when Blindboy is reaching as many more ears than Newstalk Breakfast and Pat Kenny according to the latest JNLR figures.
The podcast deals with a range of topics including mental health which companies may not find 'brand friendly' but a more open and inclusive discussion around mental health is required in Ireland which means companies will need to reassess their sponsorship strategies at some point.
If brands could sponsor 'The Right Hook' they could sponsor the Blindboy Podcast. Let's hope he finds one soon.
DailyEdge is on Instagram!