A POLICE DEPUTY held a bull's head above water for three hours before it could be rescued from a pond it had slipped into.
Christina Ammons stood in waist-deep water supporting the animal's head until her colleagues and fire officers managed to winch it out of the water in Hillsborough County, Florida.
She told ABC Action News she was an animal lover, adding:
I saw big nostrils going underwater and staying underwater with water blowing out. I stripped everything off that the sheriff's office really cares about. And then I got in.
Video filmed at the scene shows the rescue of the bull, which was lying on its side in the water and unable to get up:
Hillsborough County Sheriff / YouTube
The New York Daily News reports that a man mowing grass spotted the animal in trouble and called for help.
As Ammon supported the bull's head, her partner armed with a rifle kept watch for alligators.
The bull is now walking around and is expected to be fine, according to Bay News 9 - despite trying to bolt back into the water when it was first rescued: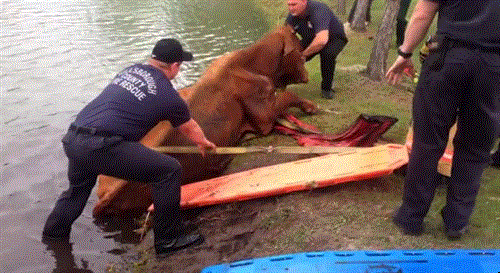 Here's another video of the incident:
ABC Action News / YouTube
This article was brought to you by Cadbury.
Well, that was unexpected. Still in the mood for more unusual antics? Try Cadbury Dairy Milk combined with Lu and Ritz crackers, unexpected but delicious. Available in shops now. #FreeTheJoy