A DECISION BY an American elementary school to ban a bullied boy from bringing his My Little Pony lunch bag to class has prompted outrage on the internet.
Nine-year-old North Carolina lad Grayson Bruce's mammy told WLOS that her son's bag was banned because the school deemed it to be a "trigger for bullying".
Noreen Bruce is fuming with the school's decision, and says her son shouldn't have to leave his favourite bag at home.
Saying a lunchbox is a trigger for bullying, is like saying a short skirt is a trigger for rape. It's flawed logic, it doesn't make any sense.
She isn't the only one who feels that way either: Over 28,000 people have registered their support for Grayson via an official Facebook page that was set up in his honour.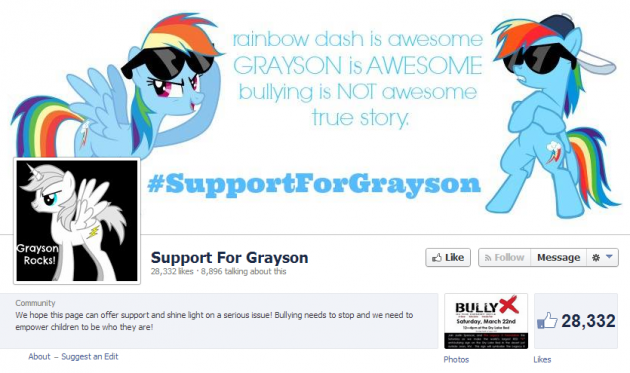 Facebook Facebook
"Bullying needs to stop" the page's official blurb reads, "and we need to empower children to be who they are."
The Facebook campaign has been widely circulated throughout the My Little Pony online community, particularly among 'bronys' or male fans of the franchise. There's also a Twitter campaign to raise awareness about Grayson's situation.
And it doesn't stop there: Well known right-wing TV and radio host Glenn Beck is throwing his weight behind young Grayson too.
The Blaze shared this video of his broadcast online:
TheBlaze / YouTube
Beck said:
I thought it was important to send a very clear message to Grayson and everybody else that it's okay to be different.
He encouraged those who were outraged to join the #StandWithGrayson campaign on Twitter.


Meanwhile, the school in question told WLOS:
An initial step was taken to immediately address a situation that had created a disruption in the classroom.  Buncombe County Schools takes bullying very seriously, and we will continue to take steps to resolve this issue.