SOMETIMES A STORY is shared that just makes you feel like maybe we aren't screwed as a society, after all.
This weekend, a woman named Fiona Carolan took to Facebook to post a lovely story about a kind Bus Éireann driver, and it's going so so viral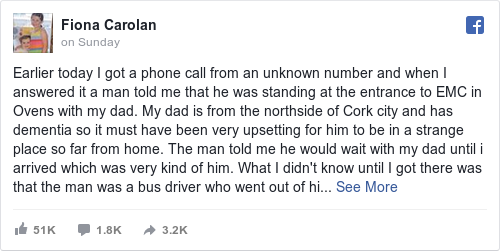 She explains that she got a call from an unknown number on Sunday.
When I answered it a man told me that he was standing at the entrance to EMC in Ovens with my dad. My dad is from the northside of Cork city and has dementia so it must have been very upsetting for him to be in a strange place so far from home.
But it wasn't just a courtesy call, the man said he'd wait until Carolan arrived to collect her dad.
What I didn't know until I got there was that the man was a bus driver who went out of his way to look after my dad, possibly even delaying his route.
A true gent!
Bus Eireann Bus Eireann
I want to sincerely thank the man, Gabor, driver of the 220 route for his patience with my dad. He knew when talking to my dad that something wasn't right and he found his identity key ring which has family contact details on it and took the time to ring us. Thank you Gabor. Bus Eireann you should be very proud to have such compassionate staff
So far, the post has reached over 57k likes and 3,200 shares, with floods of comments commending the driver on his act of kindness.
The driver, Gabor Cserni, was personally thanked by Bus Éireann Services Manager South, Tim O'Leary.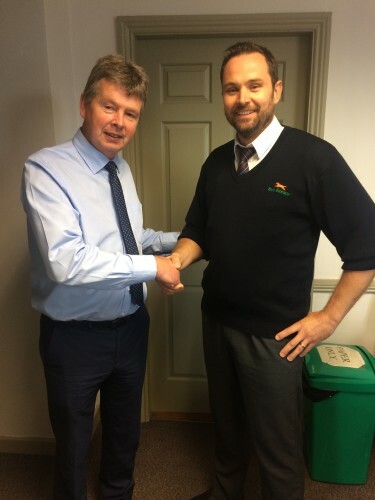 Bus Eireann Bus Eireann
A company spokeswoman told us they're "delighted to see such a positive recognition of one of our drivers".
Company drivers regularly go above and beyond the norm in order to look after our customers and it is always encouraging to see such voluminously good social media feedback. We train our drivers in all aspects of dealing with customers, including those who may require additional assistance.
Bus Éireann driver Gabor Cserni noticed that the customer in question seemed somewhat confused during their conversation, and he accordingly took what he perceived to be the most appropriate action.
Gabor has been told about the public commentary, and recognition, surrounding the situation.
What a man, Gabor. We need more people like him in the world.
DailyEdge is on Instagram!