IF YOU WOKE up in a warm cosy bed this morning, spare a thought for the poor unfortunates who chose the spend the night in a tent in a field.
We're talking about the brave folk of Castlepalooza music festival in Tullamore, Offaly.
They've been sharing their misery…
This swamp creature
The Year of Festivals guy (although he had a van)
This pair
Poor, poor Sorcha
This daddy's girl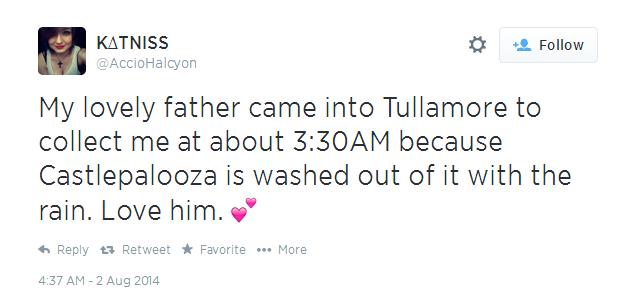 Did she ever make it?

Telling it like it is
The Indiependence festival in Cork seems to have fared a little better, with the majority of the rain in the midlands and east last night.
Fear not though Castlepalooza friends. It is supposed to dry up at some stage… later… tonight. And tomorrow will be dry. And you won't melt.