WE'RE BIG FANS of all things feline here at DailyEdge.ie.
We like cats getting into scrapes, cats DJing, having baths and of course Steve the Cat.
Imagine our glee when we discovered that there is a film festival dedicated to cats at the Sundance Film Festival.
The Catdance films, culled from submissions by cat lovers across the US, told creative, feline-focused tales.
There was the story of an aging Internet cat who can't cope with the loss of fame and "A Cat's Guide to Caring for a Human".
Each of the five finalists was awarded a golden cat-litter scoop. Fans can watch the feline films online and vote for their favorite until 28 February. The winning filmmaker will collect $10,000.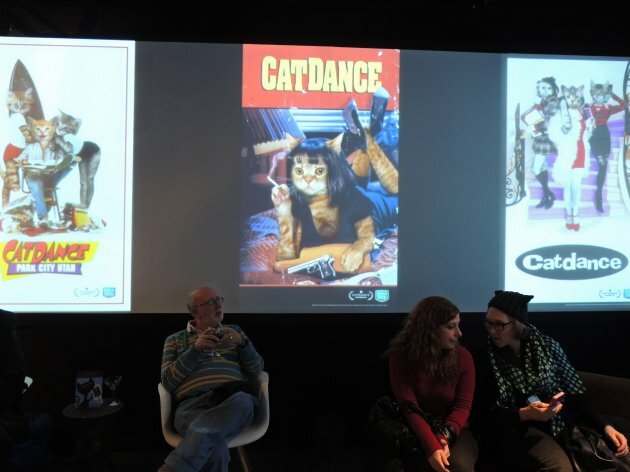 AP Photo/Nekesa Mumbi Moody
Here are the five cat films officially selected for Catdance:
Dear Rocky
Directed by Alec Friedman
This video is about my cat, Rocky, who was a great little friend for 17 years. Using home video, still photographs, original music, and cartoon drawings by Katie Cook, a talented comic artist who has done work for Lucasfilm Ltd., Marvel, and the Jim Henson Company, we get an inside look at some of the humorous and touching moments with Rocky. The video incorporates screen capture to bring Katie's drawings to life in telling Rocky's story from day one until his final breath.
Fallen Star
Directed by Steven Huffaker
The dramatic re-telling of the story of Muffin – a YouTube sensation whose star burned too bright. A recluse now, Muffin lives alone in Venice, California. Former friends recollect the drama and rage behind her immense talent.
The inspiration for the film was to honor Muffin's remarkable lifetime of achievement but also to look deeper at the dark consequences of being thrust into the national spotlight.
A Cat's Guide to Caring for Humans
Directed by Will Suto
A Cat's Guide to Caring For A Human is the quintessential guide for caretakers of humans. This film will walk the concerned cat through the fundamentals of tending those lanky, quirky, often confounding but always lovable creatures. If you are a cat with a human in your household, watch this film and embark on the path toward a fulfilling relationship with your homosapien companion.
Catalogue
Director: Michael Gabriele
Miriam and Ken order a bedroom set for their new home and it arrives exactly as advertised, which ends up being more than they were hoping for. "Catalogue" was inspired by Rocky the cat, who's chameleon-like ability to blend into the sheets coupled with his love for napping made us wonder what would happen if he'd been delivered with someone's new bed.
He's a screen veteran and has appeared in several other short films in his thirteen-year career, but has never matched the sheets better than he does in "Catalogue."
A Change of Heart
Director: Balbinka Korzeniowska
A Change of Heart is a tribute to Buster, a cat who was more than just an adorable face. It is Buster who helps Jay and Elle, a couple on the verge of a break-up stay together.
- Additional reporting by AP