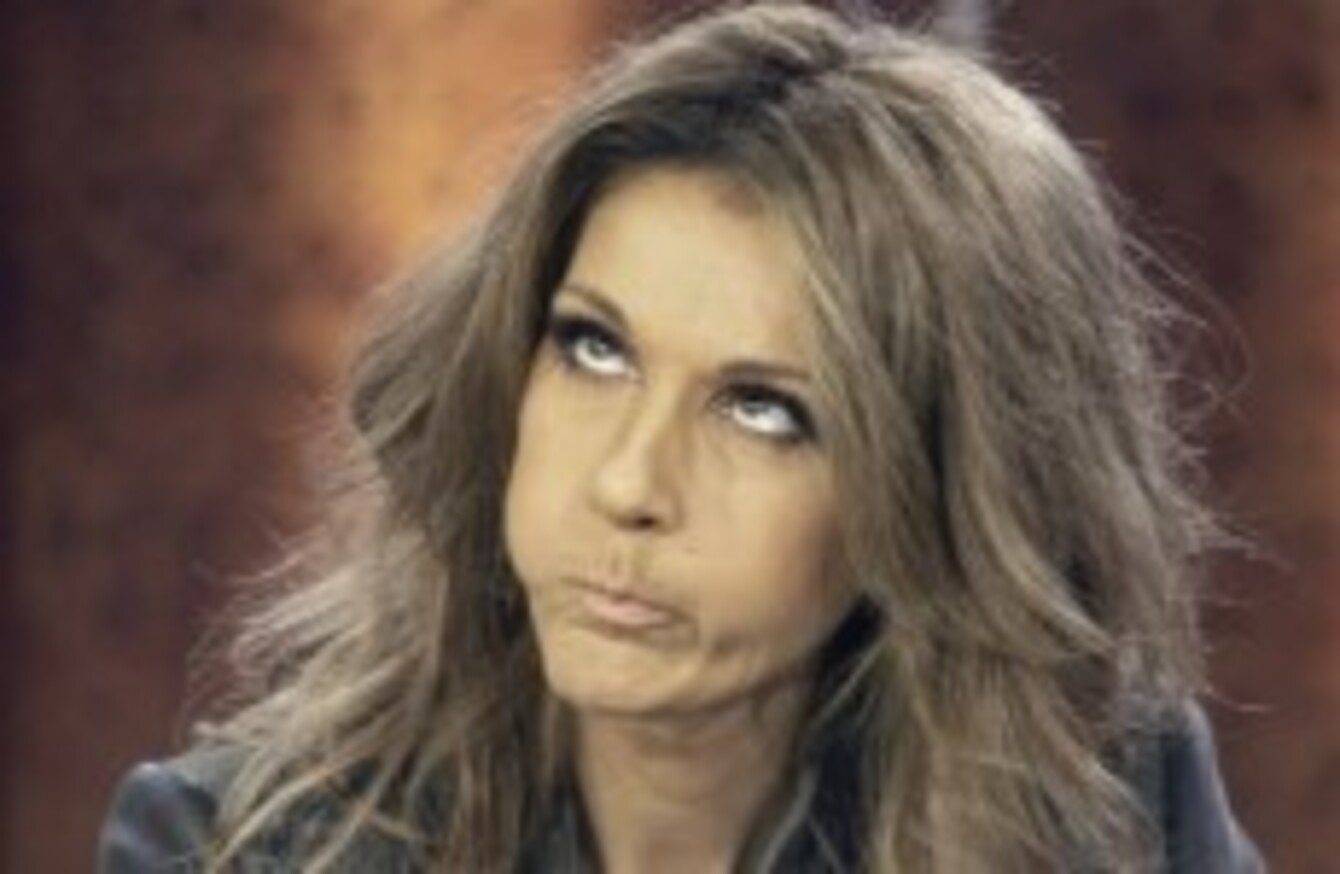 Image: AP Photo/Eckehard Schulz
Image: AP Photo/Eckehard Schulz
SINGER CELINE DION has ordered that a website which featured picture of her pulling some strange faces and poses be shut down.
The owner of RidiculousPicturesOfCelineDion.com, which is now defunct and just features a slightly sad drawing of a smiley face, received a letter threatening legal action if the site wasn't closed and the pictures removed.
Winnipeg Free Press spoke to Nick Angiolillo, the Brooklyn man who created the blog, and he said that he doubted that Celine even knew anything about it and that the action was "not likely initiated by Celine herself".
He said that the site was a kind of homage to the singer:
I am a legitimate fan of her music and her persona and I think that she's honestly a very good and caring person. The blog was embraced by the Celine Dion fan community early on.
Angiolillo said he didn't have the time, money, or energy to get into a legal battle over the blog, so he shut it down. He's also busy with his other blog StarJonesInHats.com, which features pictures of American TV presenter Star Jones wearing hats.
Here are some perfectly normal pictures of Celine Dion…
Perfectly normal pictures of Celine Dion

Celine Dion performs on the Plains of Abraham for the 400th birthday of Quebec City. Pic: Marc Bizouard/Keystone Canada/Press Association Images

Perfectly normal pictures of Celine Dion

Celine Dion performsat the Bell Centre in Montreal on 15 August, 2008. Pic: AP Photo/The Canadian Press, Graham Hughes

Perfectly normal pictures of Celine Dion

Celine Dion reacts to a journalist's question at a press conference in Shanghai, China, on 11 April, 2008, prior to her concert, after scrapping her impending concert in Beijing because the promoter failed to get the appropriate permission. Pic: AP

Perfectly normal pictures of Celine Dion

Celine Dion gargles the tune of one of her songs after she lost a bet during the German TV show "Wetten dass...?" (Bet that..) in Leipzig. Pic: AP Photo/Eckehard Schulz

Perfectly normal pictures of Celine Dion

Celine Dion makes a point during her rehearsal at the Kodak Theatre on 23 February, 2007, in Los Angeles for her performance at the 79th Academy Awards. Pic: AP Photo/Chris Carlson

Perfectly normal pictures of Celine Dion

Celine Dion performs on stage at the 2004 World Music Awards in Las Vegas. Pic: Suzan/EMPICS Entertainment

Perfectly normal pictures of Celine Dion

And again the World Music Awards in Las Vegas, with Michael Douglas. Pic: Suzan/EMPICS Entertainment

Perfectly normal pictures of Celine Dion

Celine Dion in concert in Earls Court in London in 1997. Pic: Simon Meaker/EMPICS Entertainment

Perfectly normal pictures of Celine Dion

Er, where you going with that stick Celine?... Performing during her opening night at Caesar's Palace in Las Vegas, 15 March 2011. Pic: Julie Jacobson/AP/Press Association Images
And in case you weren't convinced, here's a video explaining why Celine Dion is so amazing (be advised, the video contains language which some may find offensive):