THE CRONUT IS back in Ireland, sort of – and this time it's available on every street corner.
Centra are now selling their version of the cult croissant-doughnut hybrid in almost 500 stores across Ireland.
It's called the Cronado, and according to the publicity materials is "based on" the original Cronut produced at Dominique Ansel Bakery in New York City. Previously, cronuts were available in Ireland only at the Marker Hotel in Dublin.
Centra's Cronado – which costs €2 a throw – comes in two flavours, nougat and vanilla. Here's what it looks like: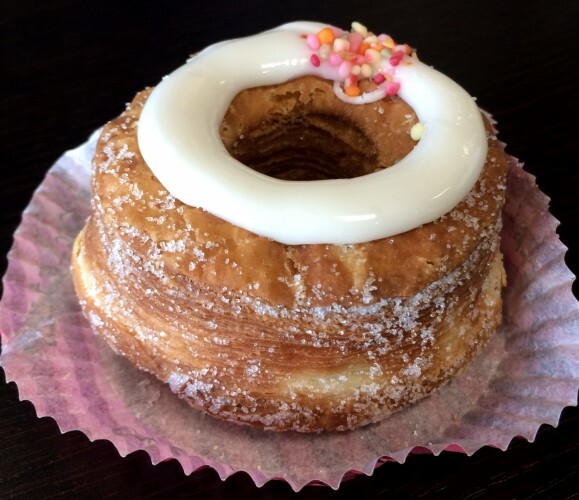 DailyEdge.ie DailyEdge.ie
And here's the inside:
DailyEdge.ie DailyEdge.ie
So how did it rate? We put it to some anonymous testers to find out, and here's what they said.
Very pleasing. Oooh, very dense. Yes. That would be a treat now.
I would say overall I'm in favour of the idea. But there's too much sugar on the outside. There's sugar everywhere. It's on my arms, it's on my legs.
I don't know. It's not something that I would eat a whole one of.
Mm-hmm. Is there something in the middle? Wow.
This is the first thing past my lips this morning. *baffled face*  It reminds my of that competition on Anything Goes where you couldn't lick your lips. It's quite nice. A light doughnut.
So now.