IT ALL STARTED with this tweet, sent out yesterday by American celebrity makeup artist and musician Jeffree Star:
Suddenly, the world was very aware that a Chanel-branded boomerang existed.
Chanel Chanel
The news trickled down to Australia – whose Aboriginal groups are widely thought to be the inventors of the boomerang, and a place where it's a cultural icon.
So Aboriginal writer and activist Nayuka Gorrie was one of the first to call out the obvious contrast at play here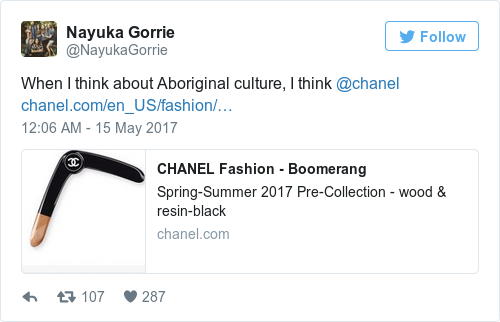 @NayukaGorrie @NayukaGorrie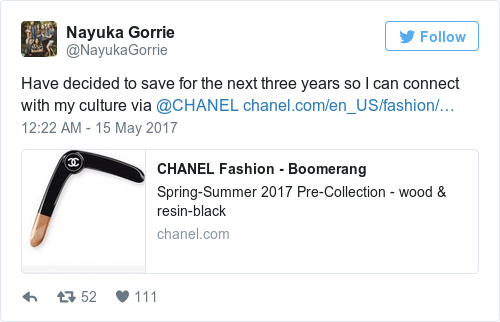 @NayukaGorrie @NayukaGorrie
Overnight, it's been universally deemed cultural appropriation and become a major news story down under
The debate under Star's Instagram of the boomerang heated up, with some comments calling out Chanel for using a cultural symbol as a ridiculously luxurious item:
I am from Australia and I am offended that a company would make a joke out of something that was used as a weapon for survival.
To make matters worse, The Guardian noted this morning that the boomerang costs nearly 10% of the average yearly income of Indigenous Australians.
And then it made TV news across the country *cough*
Chanel were forced into releasing a statement on the controversy, saying they are:
extremely committed to respecting all cultures, and regrets that some may have felt offended.
On top of the cultural appropriation, the obscene price was next on the list of reasons why this is an awful thing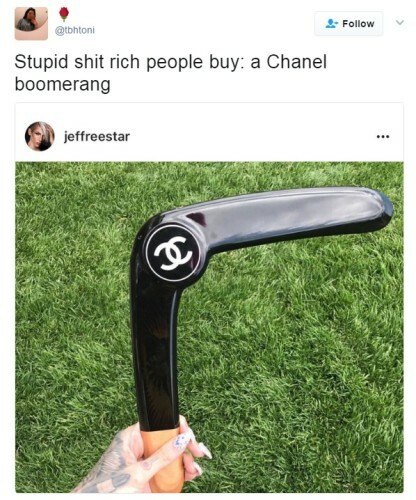 @tbhtoni @tbhtoni
And the Chanel logo appearing on a boomerang in the first place is gas enough
If you were to sit down and attempt to create a controversy, this would be the blueprint
Or another title: How to piss off an entire nation.
What goes around comes around.
Sigh.