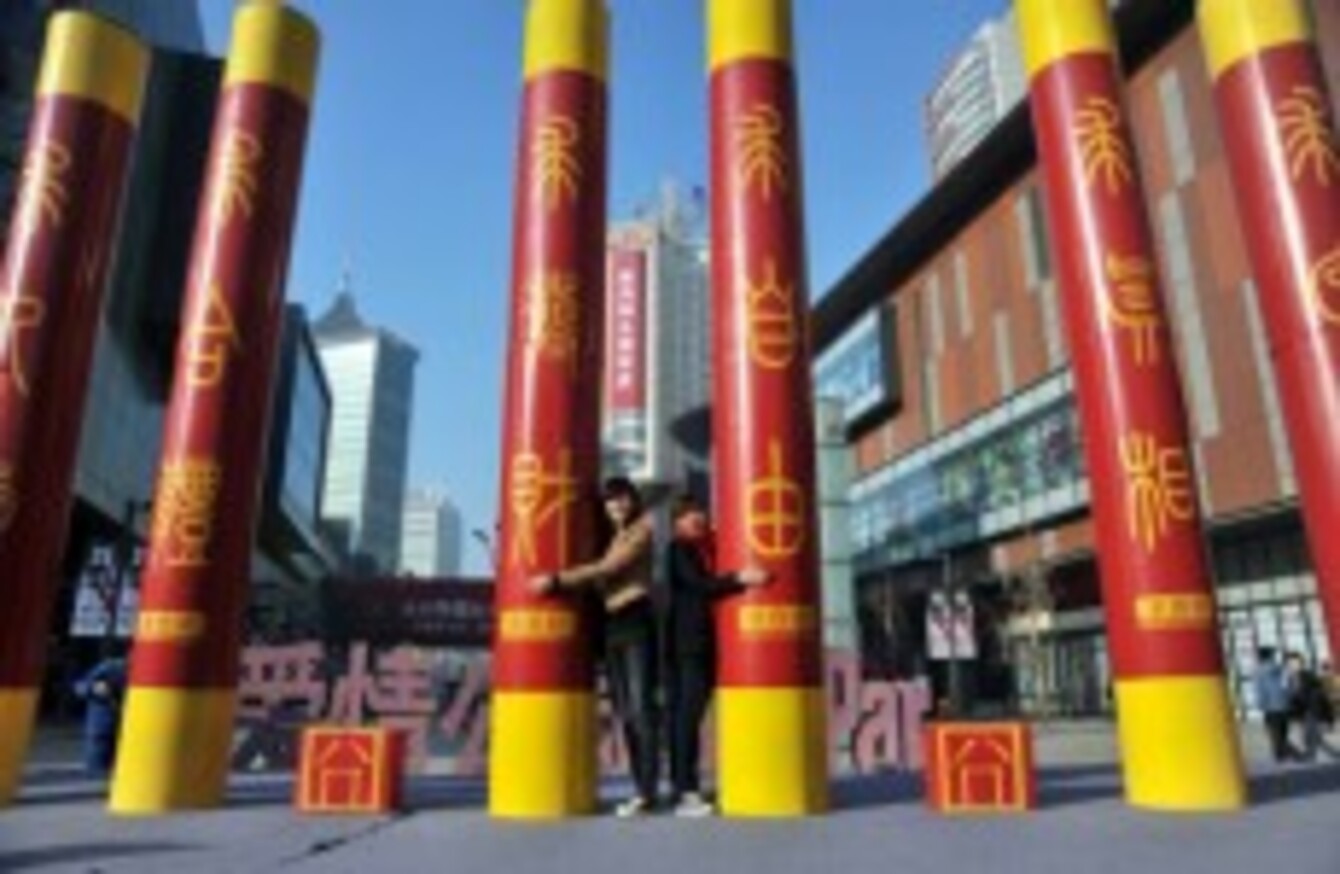 Six pillars mark Singles Day on a shopping street in Shenyang City in the northeast Chinas Lianoning province.
Image: Sun hai/AP/Press Association Images
Six pillars mark Singles Day on a shopping street in Shenyang City in the northeast Chinas Lianoning province.
Image: Sun hai/AP/Press Association Images
THOUSANDS OF COUPLES tied the knot in China today – about ten times more than on any usual day.
That seems odd as the country is celebrating "Singles Day".
Xinhua news agency reports that November 11 became popular for couples as their weddings will mark the end of the grooms' bachelorhoods.
In Shanghai alone, more than 3,200 applications for marriage registrations for today were received by authorities.
The back-story
The unofficial and informal holiday originated from the Guanggun Festival. According to the China Daily, guanggun is the word used to refer to an adult single – usually male and unwillingly unattached.
The numeral 1 has come to symbolise a guanggun because it looks like an erect stick (exact translation and, yes, there is an intentional phallic double-meaning).
However, today's activities are more fun than those of the Guanggun Festival, which saw men admit to their loneliness even though they were ashamed of their bachelor status.
The day is celebrated annually on 11 November but this year it has garnered extra attention because of the two extra 1s. The Chinese write the date 2011.11.11 so there are actually six 1′s in-a-row.
Traditionally, the date is observed by eating four fried dough sticks and an egg for breakfast.
There is also an anthem for the day called Love Song for Singles.
Bizarre moments
However, today has been dubbed the "ultimate Singles Day of the century" so tradition may not be followed.
In one supermarket, employees dressed up as bears and "attacked" any couples with inflatable hammers if they were involved in any public displays of affection.
It was a slight to all those people stuck in singledom, they said.
Meanwhile, a giant matchmaking festival was held in the Songjiang district of Shanghai.
And as if that is not enough – the pop culture holiday also marks China's "Black Friday", which is similar to America's day-after-Thanksgiving sales.
Business Insider reports that Taobao's payment system actually crashed for about an hour and a half because of the spending rush.
Other singles decided to spend the day watching Love is Not Blind, a movie about a girl who is heartbroken because her boyfriend cheated on her.
For those who did not want to wallow in their unwilling celibacy, there were hundreds of bachelor-style parties and matchmaking events happening across the county. In the Yangzhou University, students marked the occasion with a giant pillow fight:
Some local authorities got involved as well as a special 1111 train was run at 11.11am on the number 11 line in Shanghai.
There is also an anti-Singles Day sentiment present across the country with some Chinese insisting that the date could signify the "Special One". Positivity!
However, there is a sad note to the day as census figures showing the country's ratio of men to women is widening led to worries that more and more Chinese men will be forever single.
This Single Man has taken the day very seriously. For the past few days, he has been wearing a yellow catsuit and black mask while travelling through various cities search for 1,111 hugs from unattached ladies.
Here at TheJournal.ie, we marked 11.11am on the 11.11.11 with Ireland's Greatest XI at 11:11 on 11/11/11 (for the day that's in it)>