IF YOU HAVE even the vaguest Irish name conceivable, it's likely you understand Chrissy Teigen's pain.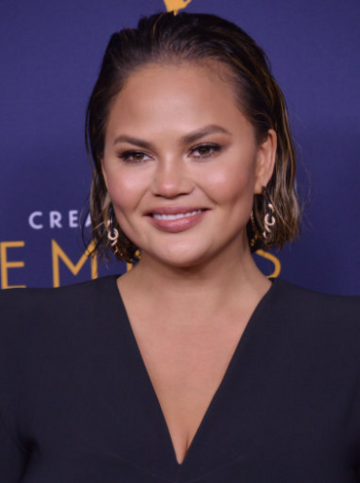 Source: Sipa USA/SIPA USA/PA Images
The TV presenter slash cookbook author slash Twitter genius finally let us in on a big secret. Every single one of us has been pronouncing her name wrong. 
From the average fan on social media, to the showbiz presenters that are literally paid to say her name. 
In a series of tweets yesterday, Chrissy revealed that we've all been pronouncing her name wrong this WHOLE TIME.
Instead of Tee-gen, it's actually supposed to be Tie-gen.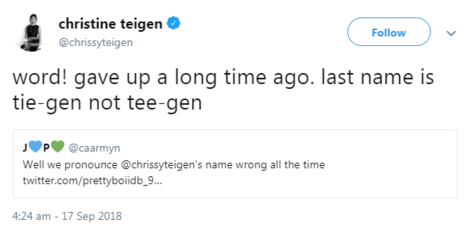 Well, what? 
People have literally said this to her face time and time again, and she hasn't corrected them once? 
Watch the first two seconds of any interview and you'll not even see her flinch when TEE-gen is announced. 
Source: Good Morning America/YouTube
In fact, it's pronounced Tee-gen so often, she's begun to just accept her fate. 
In fact, she admitted that it's sometimes the easiest option to just go along with things in general. 
I immediately identified. I don't even have a particularly hard-to-decipher name, but people still manage to refer to me as Nicole, or pronounce my name Knee-Cola.
I can't begin to imagine what life is like for the Aines and Aoifes among us when they're abroad. 
Imagine going in to Starbucks every day and just knowing they're going to fuck up your name spectacularly? And what can you do about it? Nothing but walk around with a hatchet job on your cup. 
Then there's the politeness when a colleague or a friend of a friend starts calling you by the wrong name. If they don't get it after three tries, are you really bothered trying to educate them?
They pass it on and on and now there's a whole faction of people out there who think you pronounce your name Clinna, when it's in fact Clíodhna. 
It all seems fine until they do it in the company of a friend, who makes a massive deal in front of everyone that they're pronouncing your name wrong, and YOU look like the idiot that hasn't brought it up yet. 
Just be thankful you're not famous. And name all of your kids Bob and Sally until people learn to listen. 
DailyEdge is on Instagram!