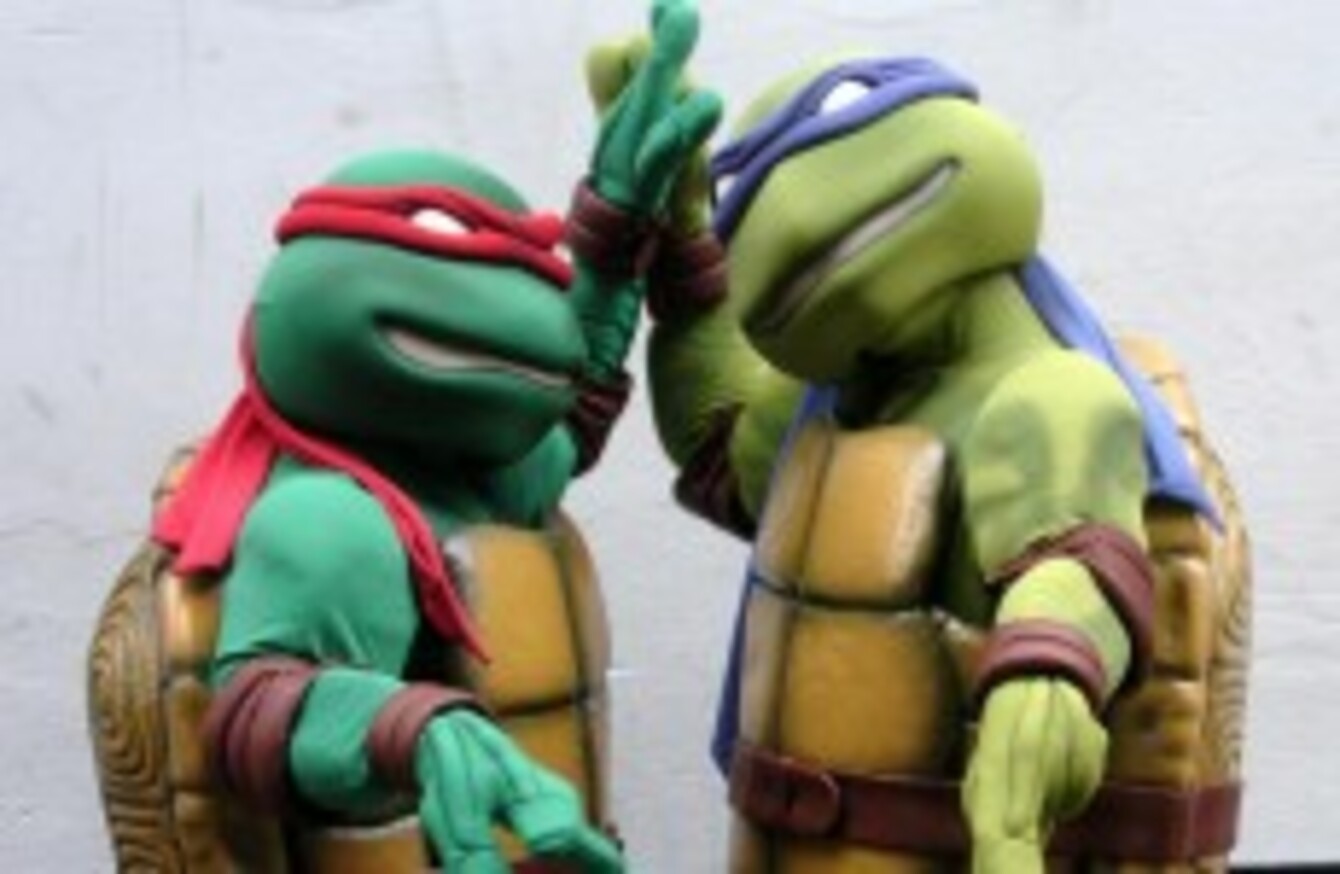 Raphael (left) and Leonardo
Image: Ian Nicholson/PA Wire
Raphael (left) and Leonardo
Image: Ian Nicholson/PA Wire
US TOY GIANT Toys R Us has released its list of top tips for Christmas, and in amongst the tablet computers and hand held consoles are… Teenage Mutant Ninja Turtles.
By the power of Splinter's tale, is it 1992 again?
No, but it looks like Leonardo, Donatello, Raphael and Michelangelo might just be set to make a comeback, with a reboot of the kids' cartoon making a return later this month.
Check out the trailer:
Uploaded by IGN Entertainment
Toys R Us predict that a secret lair playset will be filling out Santa's sack this year, but closer to home, some Irish retailers aren't so sure.
Gareth Staunton, owner of Nimble Fingers Toystore in Stillorgan in Dublin told TheJournal.ie that he doesn't buy into the TV hype surrounding toys and doesn't stock the 'fads', sticking instead to more traditional products.
John Doherty of WorldOfWonder.ie meanwhile said that he 'wouldn't be putting much money into Teenage Mutant Ninja Turtles' and that toymakers have tried to revive the pizza-loving sewer dwellers before, with little success. A new TV show might change all that though.
Doherty said that tablet computers for kids like the LeapFrog LeapPad will fly off the shelves this Christmas, along with Moshi Monsters. He also tipped Mattel's Monster High Dolls to be in high demand.
Furby's back
Toys R Us' list also features another blast from the past… the Furby, which first caused a storm in 1998. Now the Furby is back with LED eyes and some kind of supernatural power which enables it to communicate with an iPad.
It's not the only retro toy seeing a reboot, both John Doherty and Gareth Staunton said that My Little Pony has seen a resurgence of late, while Cabbage Patch Kids are also tipped to be big this Christmas.
Lego is 'flying consistently' off the shelves according to WorldOfWonder.ie while Nimbles also does a roaring trade in the old favourite, along with the Lego Playmobil brand.
Staunton said that the resurgence in older toys came  in about five years ago, and he speculates that the "toy companies got lazy" and that some of the trends work and some of them don't. He says that the same products such as dolls houses and Sylvanian families do well year-in year-out.
(Yes, we are aware that this is our second Christmas story in two days. Please, have mercy)