HOMELAND IS BACK on our screens this evening (RTÉ 2, 9.00pm, get the slanket ready).
We don't want to give ANY spoilers, so just check out the promo for season 2, featuring an undercover Claire Danes and a suspicious looking Damian Lewis:
Claire Danes has come a long way since she became the envy of teenage girls of a certain vintage as the star of My So-Called Life (FINALLY, an excuse to talk about My So-Called Life!).
Here are the highlights of her career, Daily Edge style…
1. Loving the way he like, leaned: We were introduced to Jordan Catalano (played by Jared Leto) through the eyes of a teenage Claire Danes, who played Angela Chase in My So-Called Life. He's in a fairly dodgy band now called Sixty Second to Mars, but he used to be an expert at leaning on things. The evidence: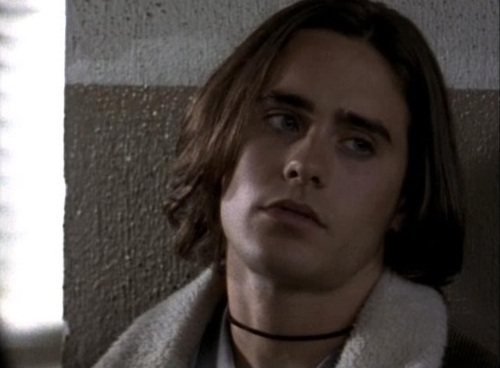 Look at him there, leaning.
2. Romeo and Juliet: Claire Danes progressed from My So-Called Life to playing Juliet opposite Leonardo DiCaprio in Baz Luhrman's Romeo and Juliet, which featured arguably one of the best movie soundtracks ever. Radiohead, Garbage and our own Gavin Friday and Mundy featured. Claire Danes was good in it too.
Uploaded by TheLady
3. Comeback queen: Claire Danes has made the mother of all comebacks in Homeland. Sure, she was in My So-Called Life and is thus sealed in cult history forever, but apart from a measured performance in Little Women and acclaimed turns in Steve Martin's Shopgirl and Temple Grandin, she was (somewhat unfairly) tagged as having failed to make much of an impact.
Homeland has changed all that, and she is firmly back in the A-List. We never doubted her for a minute.
4. Speaking of Shopgirl: Not only is Steve Martin a Grammy-winning bluegrass musician, he also wrote the novella Shopgirl in 2000, which was then turned into a film in 2005 starring Martin and our Claire. It's not bad, not bad at all.
Uploaded by moviestobe100
5. She left us hanging: Perhaps one of My So-Called Life's greatest/worst achievements was to leave a generation of teenage girls wondering what happened next. The show was never brought back for a second season, and it was rumoured that Danes and her parents wanted out because of the gruelling production schedule.
Fans took ads out in trade magazines and an early internet campaign took off to try to keep the show going, but it ended after one season. We'll never know what happened.
6. Fashion: At least two members of TheJournal.ie staff (and we suspect that there are more) have admitted to dying their hair red and tying shoelaces around their necks on the strength of Claire Danes' and Jared Leto's 'looks' in My So-Called Life. Danes may also be responsible for a generation of Irish women shoehorning the word 'like' into their vocabulary. Like.
7. Temple Grandin: Danes won an Emmy this year for her role in Homeland, but she won previously in 2010 when she played an autistic woman in the Mick Jackson – directed biopic.