Krongu Krongu
COBH. AN CÓBH. Cove.
A town which goes by many a name, and reigns supreme in the county of Cork.
It shares a fierce rivalry with Midleton similar to that of Springfield and Shelbyville in The Simpsons – just replace 'lemon tree' with 'a cinema' in this instance.
BUT there are a lot of things that allow Cobh to retain its (unofficial) title as East Cork's Finest Town…
1. Mimmo's > Lennox's
The Italian chipper does not do anything by halves. Even when Supermacs moved in two doors down, they've held their own, doling out Mexican burgers like there's no tomorrow.
What's in a Mexican burger, you ask? Chicken, cheese and whatever constitutes a Mexican sauce.
Their Facebook page is also GAS.
Mimo's Cobh / Facebook Mimo's Cobh / Facebook / Facebook
2. The Burma steps
The scene of many an underage drinking session, with a height relative to that of Mount Everest.
Watch the dodgy step half way down, you'll break your neck.
3. The gem that is Cobh Open Discussion Page
Recently renamed Cobh Discussion Page because sometimes the discussion gets a little TOO open …
This Facebook page is a God-send, serving as the town's most-frequently used search engines. Need the number for a takeaway? A tiler? A palm reader? Someone will know in Cobh Open Discussion.
It also serves as a place to vent when there's roadworks on the Fota road, or when someone feels the town isn't supporting local business. *shakes fist*
This guy also posts regular updates about the robin he's taught to feed directly from his hand. Not all heroes wear capes.
4. Cobh is an island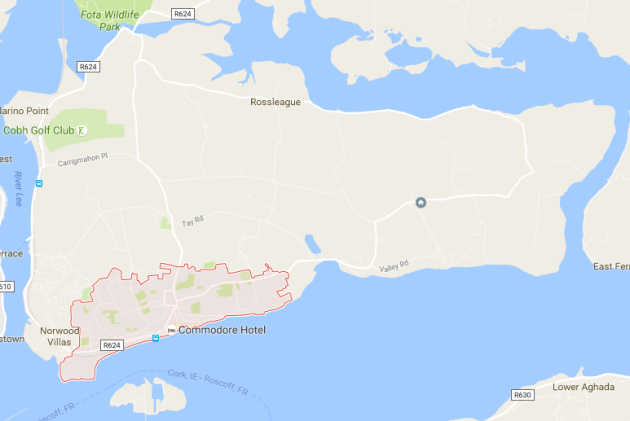 Google Maps Google Maps
Surrounded by water ALL THE TIME – very handy when we get that hour of sunshine during the summer.
5. Cobh has a ferry service and Midleton doesn't
Granted, it's primarily used when the only bridge connecting Cobh to the mainland is out of action … But still.
6. The Comm is the best local nightclub in the COUNTRY
Even if there's only two other people in attendance, order yourself a Barman's Special and a great night is guaranteed.
I mean, Basshunter played there last year … Amazing.
Midleton doesn't even HAVE a  nightclub. Losers.
7. The Regatta AKA Cobh's Coachella
A wild weekend in August of sailing, crab fishing and cover bands murdering Shut Up And Dance.
It also includes a pretty lit (sorry) fireworks display and Cork's hottest beauty pageant – the Regatta Queen.
 8. The BMC
Bread Milk Cigarettes? Batman's Cave? Whatever it stands for, this is the only place worth going to if you're looking for some finely sourced, potentially out of date goods.
It's also probably the only place in Cork that stocks white Lion Bars AND the ones with extra peanuts.
9. That harbour though …
THIS is what Drake's on about when talks about views.
*endless applause emojis*
10. Cobh Ramblers
Never mind all those 'riots' that happened last month, (definitely started by away fans, just FYI), the town is its team and the team is its town.
11. It has one of the most haunted pubs in Ireland
Pillars Bar has been closed for some time now, and has often been investigated for paranormal activity.
No confirmation as to whether its closure was caused by ghosts, mind.
12. Cuskinny Marsh
Oh NBD, it's just the site where Derek Mooney records the Dawn Chorus with RTÉ!
Home to seriously cute feathered friends, nothing in Midleton could rival it.
13. Cobh Hospital
Cobh Hospital is the town's leading care home for the elderly, and their staff have done Trojan work to ensure it's stayed open through the downturn.
Their biggest fundraising? The Christmas Day swim – sure who doesn't leave freezing their arse off for charity?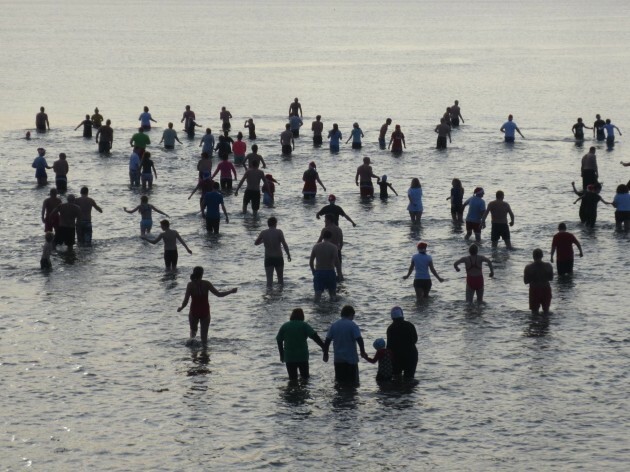 Friends of Cobh Hospital / Facebook Friends of Cobh Hospital / Facebook / Facebook
14. Jerome's Takeaway Meals
Great when you're not arsed cooking, greater when you're dying from the drink of a Sunday and fancy a roast.
Jerome's been keeping Cobh fed for years – leave room for dessert now, y'hear?
Jerome's Take Home Meals Jerome's Take Home Meals
15. St. Colman's Cathedral
Majestic, ain't she?
The choir have also sang on RTÉ and EWTV – essentially MTV for Catholicism.
16. The excessive Titanic memorabilia
Because every household needs Titanic gloves – they're an investment piece, really.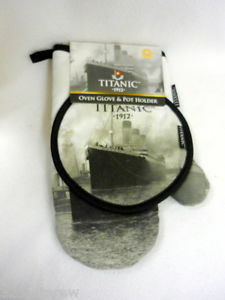 Ebay Ebay
These can be purchased from the Titanic Experience, where you can partake in a simulation of the sinking and find out whether you would have lived or died.
What a thrill.
Irish by birth, Cobh by the grace of God. <3