THIS IS THE Nicodemus Coffin Bed.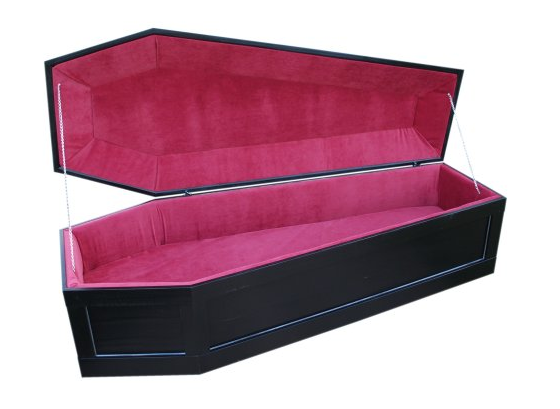 It costs $1,299 (reduced from $4,099!) and there is currently only one left in stock on Amazon. The product description sums it up as follows:
Long awaited casket bed design. Sleep peacefully in this Gothic inspired Casket bed. This piece is the real thing, use it as a coffin when the time arises.
However, the coffin bed has been getting hilariously mixed reviews:

I was excited to receive my Nicodemus Coffin Bed and try it out, but I have to say that I am EXTREMELY unhappy with it! If I had more time I would explain further, but I think my phone battery is nearly dead and really what I need is someone to help a girl out. Really. OUT. The sound of the dirt falling has stopped and it's getting really stuffy in this thi

My family are busy people and I don't want them inconvenienced by my death. When I 'peacefully pass away in my sleep', all they have to do is close the lid, carry me out to the pre-dug hole I have in the backyard and voilà! I'll be in the ground before the rigor mortis sets in.They then have the rest of the day to go to the movies or rifle through my possessions. Thanks Casket Furniture!
…but you can't find coffin sheets ANYWHERE, not flat, not fitted, and forget about bed in a bag. Unless you own your own sewing machine and are committed to making your own sheets, give this one a pass.
via Daily Dot