YESTERDAY, HALF THE country seemed to lose the run of themselves when Coldplay tickets were released for Croker.
Of course, some unfortunate fans were left hanging when there were no tickets left through the traditional means.
But one Kildare man called Shane saw an opportunity for some craic at the expense of his friend Gerard.
He posted a story to the 'Coldplay at Croke Park' Facebook page about his "girlfriend" and their mutual love of Coldplay
Facebook Facebook
It was long and it was detailed. And it was also absolutely gas.
He began:
So back in Oxegen 08 I met my current girlfriend who I thought I had a great ole sing-along with at Coldplay feat Christy Moore, my memory is a little hazy to be honest,if ya know what I mean. Now whenever people ask how we met we have always said that we met at Oxegen. This is going somewhere I promise.
So this morning I got up extra early before work, travelled in and set up my laptop before the tickets went on sale. Eventually got 2 tickets, delighted with the brownie points I was going to get later. Text her saying that I got her a surprise. Finished work, straight to her door, walked in like King Swingin Mickey, "Turn on the kettle and sit down, Love."
Makeagif Makeagif
Yes, he'd got the tickets:
"I managed to get us two Coldplay tickets"
Now her face didn't exactly react in the wide-open-eyes-with-the-beaming-smile kind of look,more of a slow accepting nod.
"Why?"
"Because the first time we kissed was at Coldplay" says I. Down came the shutters, gone was my wonderful woman and out came that Demon that only appears when I leave her toilet seat up before she uses it in the middle of the night. "It" looked at me, Eyes thinly veiling the Gates of Hell itself with Fangs bared and ready to tear a mortal man limb from limb. It hissed at me,
"The first time we kissed was at The Arctic Monkeys"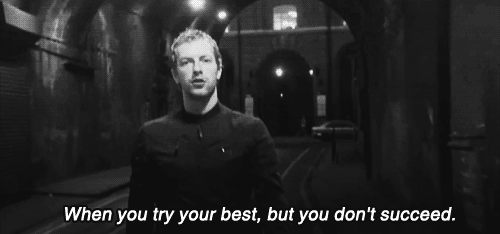 Oh. No.
So, the reason he was posting on the page was that he had two tickets for sale at face value. Given the hilarious nature of the story, the post blew up overnight – with over 15,000 Irish people liking it, and nearly a thousand commenting.
The kicker, though, was that the phone number he left was Gerard's
Which has meant the last 24 hours for Gerard has included hundreds of phone calls, messages and voicemails
Poor Gerard tells DailyEdge.ie:
Yes he said it took him 45 mins to plan the entire thing! I'm still getting calls. He is some snake.
Gerard will have to keep the Coldplay fans at arm's length for the next while – which might be a struggle for him. Still, the calls will stop coming eventually, you'd think.
DailyEdge is on Snapchat! Tap the button below to add!