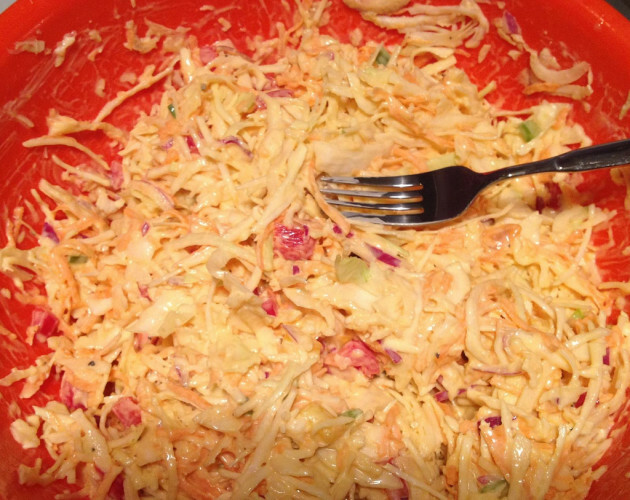 Harry Wood Harry Wood
IRELAND HAS A coleslaw problem.
Firstly, let's talk about how much coleslaw we eat. So much coleslaw, it gets its own signs in the supermarket.
So much coleslaw, it comes in DIFFERENT MULTICULTURAL FLAVOURS.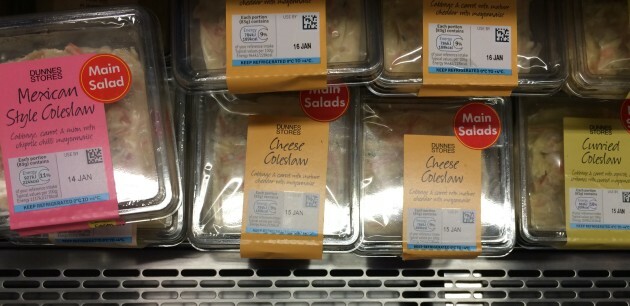 Michael Freeman Michael Freeman
Cheese coleslaw? Seriously? That is not a thing.
But anyway, here's the problem. Coleslaw is rank. It is rank and sick and wrong. And it should be removed from all deli counters, salad bars, and sandwich plates forthwith.
1. COLESLAW IS CABBAGE IN EGG SAUCE.
2. It definitely, definitely does not count as 'salad'
Maybe, MAYBE, coleslaw might be acceptable in very small quantities on a sandwich. BUT IT IS NOT A FOOD ON ITS OWN.
3. It literally smells bad
4. THAT MOMENT WHEN YOU'RE ORDERING A SANDWICH AND THE KNIFE IS ALL COVERED IN OLD COLESLAW JUICE AND THE SERVER JUST KEEPS ON MAKING YOUR SANDWICH LIKE NOTHING'S WRONG
I don't have an image to illustrate this all-too-frequent scenario, so let's just settle for this.
Giphy Giphy
5. That sneaking suspicion that the coleslaw has been there for a long time, and stirred to prevent a crust forming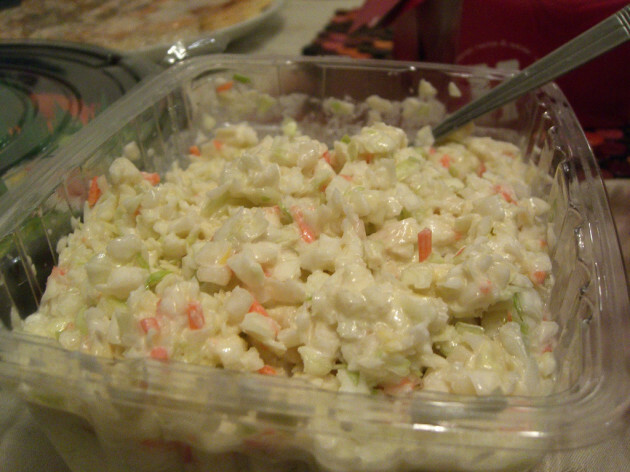 avlxyz avlxyz
*vomits*
6. Here is a good coleslaw recipe
7. And here is a useful philosophical exploration of coleslaw as a concept.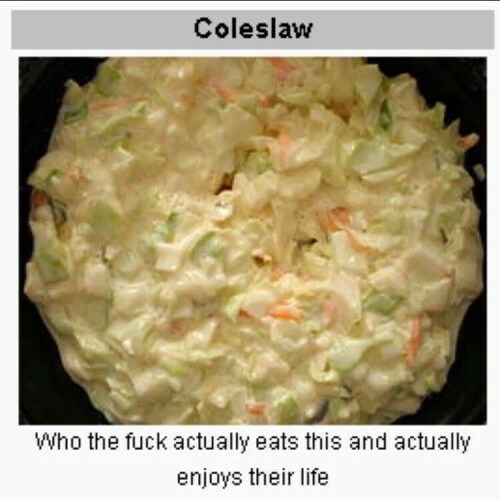 #STOPCOLESLAW #DEATHTOCOLESLAW #FREEOURBODIESFROMCOLESLAW.
No coleslaw for me please. Join my campaign by voting in this poll:
Coleslaw is…

Poll Results:
An abomination that should be stopped for the sake of our children, and our children's children
(805)