LAST NIGHT'S EPISODE of Connected saw the focus shift to the men in the six main characters' lives.
The reality show is a distillation of hundreds of hours of footage recorded by the six as they go about their daily lives.
The latest episode – and in particular poet and rapper Temper-Mental MissElayneous' contribution – prompted a discussion around the issue of street harassment.
In the episode MissElayneous is called out to on the street, and told that her "trousers don't match her arse". Previous to this she is seen getting ready in her home, hoping that she won't be "hounded".
There are loads of things going through your head, it's like, what do I expect? Maybe I'm asking for it.
She also described a situation on a previous day when she had some "serious conflict with three fellas in a BMW, who were 'complimenting' me when I was running across the road".
She described how one of the men became aggressive when she didn't respond in the desired way.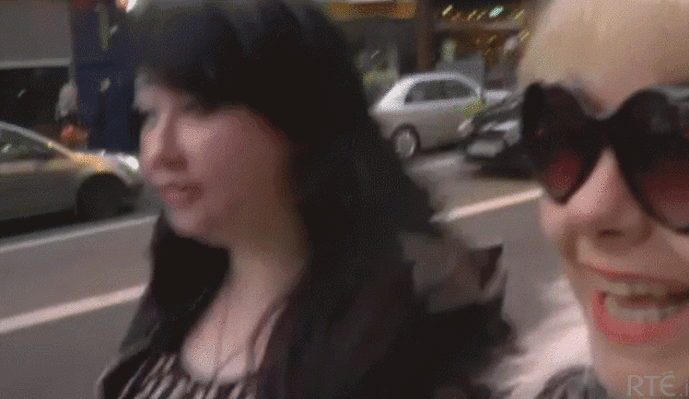 He was saying 

"the smell off yeh" and all this. "I didn't want yeh anyway". Did he think I thought he was mad into going on a date with me or something when you started going "HERE YOUNG ONE"?
The incident was juxtaposed with another of the show's characters, Nicole, who said:
Men were perving at me when I was only 16 and 17. That's when I got used to it. Men would beep at me when I'm walking down the road.
Nicole, a student, model and nightclub dancer later says, after completing a job in a Navan club :
They say that women are the weaker sex, but I get paid to go into a club,  stand up on a podium and dance. You just have to show up and bring some underwear.Men are the ones that stand around looking at us. To me, they are the weaker ones, not us.
Later again Nicole explains her decision to give up dancing, explaining that it's not worth it, and describing being 'grabbed' during the course of her job.
Speaking to camera meanwhile MissElayneous said:
As a woman, I'm fearful because of the social set up where men are frightening. Women should not have to change their attire because men can't 'control themselves'. "Boys will be boys". No, I'm sorry that's not the way it works.
Later there is an incident on a Dublin street where Elayne has her ass smacked by a stranger.
He had no right to do that.
She refers to the incident as a sexual assault and regrets not taking more action towards the man who touched her.
So I'm supposed to be complimented? It's just ridiculous. "She was wearing a mini skirt, she was asking for it, looking for attention". No. No I'm not. Let me be the way I want to be, let me wear what I want to wear and you let yourself be who you want to be.
Don't come into my space. Don't force your way into my space.
An RTÉ spokesperson said that there had been significant reaction to the issues covered in last night's show.
Tweets showed that there were opinions on both sides:
Connected is on RTÉ Two on Tuesdays and Thursdays at 10.30pm