COURTENEY COX AND Derry guitarist Johnny McDaid couldn't have picked a more 21st century way to announce their engagement.
They tweeted the news simultaneously with the messages "I'm engaged to him" and 'I'm engaged to her", and then retweeted each other.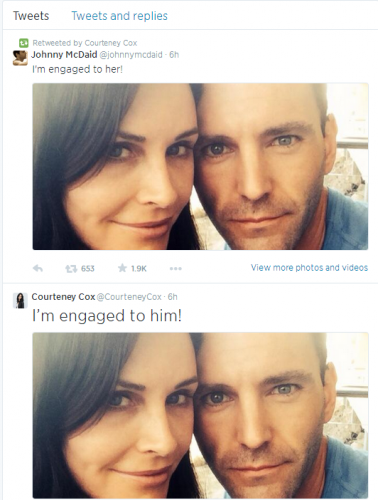 The story goes that the pair were introduced by Ed Sheeran and have been nigh on inseparable ever since, and it was Sheeran who let slip a few months back that they were living together.
Speculation about the engagement has been rife for some time now and last week Cox was spotted wearing a whopper of a ring.
The Friends actress separated from David Arquette in 2010. The pair have a nine-year-old daughter together.
No word yet on whether there'll be an Irish wedding ceremony, but we can almost sense Gary Lightbody penning a new ballad just in case. Chasing Bridesmaids?