ANYONE WHO HAS ever been invited to a toddler's birthday part will know the pain…
Having to stand around pretending like the little tot knows what's going on? No thanks.
Sure, they'll look back on the cards and photos fondly. Well, not this one.
Redditor Jesus_sold_weed (yeah, really) posted a photo of a card her dad gave to her cousin's daughter.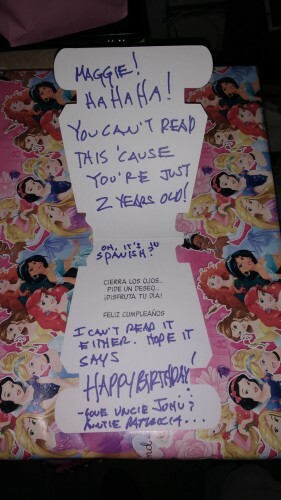 Imgur Imgur
It reads
Maggie! Ha ha ha! You can't read this 'cause you're just two yars old. Oh, it's in Spanish? I can't read it either. Hope it says HAPPY BIRTHDAY.
As for the Spanish, what does it actually say?
Close your eyes
Make a wish…Enjoy your day!
That's one for her to look back fondly on…