LAST WEEK, IRISHMAN David O'Reilly announced that he had worked on the latest episode of South Park. O'Reilly, who originally hails from Kilkenny, is an acclaimed animator and designed currently residing in Los Angeles.
The award-winning animator told DailyEdge.ie that the gig was a dream come true.
I just did a three-week guest-writing stint on the show. I've been watching it since I was twelve and Matt and Trey are heroes, so getting to stew in their brains for a while was a dream come true.
O'Reilly, 29, is far from a newcomer to the scene, though, and has amassed a number of impressive credits to date.
1. He started out in Cartoon Saloon when he was fifteen.
O'Reilly got his start as a fresh-faced fifteen-year-old with Cartoon Saloon, the Kilkenny animation studio behind the likes of The Secret of Kells and the forthcoming Song of the Sea. There, he honed his animation skills and prepared to take the world by storm.
2. He created the artwork for Son of Rambow

David OReilly / Vimeo
After doing artwork for The Hitchhiker's Guide to the Galaxy, O'Reilly lent his drawing skills to the 2007 charmer Son of Rambow. He created the drawings, graphics, flipbooks and closing credits to the film, which screened at Sundance in 2007.
In a 2008 interview with AWN, he commented that the process was difficult as he had to undo years of training in order to emulate the drawing style of a child.
ForSon of Rambow specifically, I had to learn how to draw like a child, which took a few months of practice. I had to unlearn years of anatomy, perspective, line weight, composition and color theory.
3. He made a music video for U2.
U2VEVO / YouTube
The video for I'll Go Crazy If I Don't Go Crazy Tonight, specifically.
4. His short films have been ridiculously well-received.

David OReilly / Vimeo
Back in 2009, he gained international notice with his short Please Say Something, a futuristic take on the traditional cat-and-mouse tale. That film won the Golden Bear for Best Short Film at the Berlinale, as well as a rake of other festival awards.
His 2011 film The External World received its world premiere at the Venice Film Festival and screened at Sundance. (Fancy.) It went on to win the IFTA for Best Short, as well as dozens of other international prizes.
5. He designed visuals for M.I.A

David OReilly / Vimeo
He was commissioned by M.I.A. to design visuals for her Coachella performance in 2009. Yes, the M.I.A.
6. He directed an episode of Adventure Time
Lumpy Viola / YouTube
He directed an episode of the cult animated series entitled A Glitch is a Glitch, which showcased O'Reilly's unique, glitchy aesthetic. Pop culture website The AV Club called it "psychedelic" and "mind-bending".
7. He designed the video game sequence in Her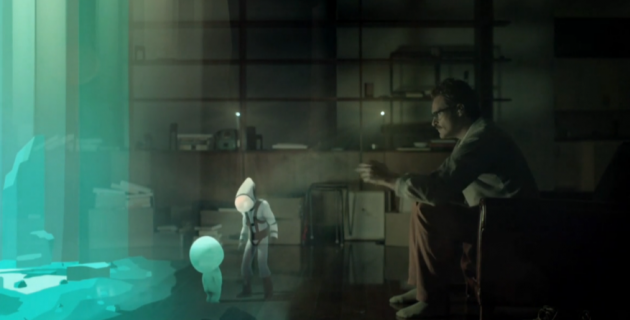 David O'Reilly / Vimeo David O'Reilly / Vimeo / Vimeo
Arguably his highest-profile project to date saw O'Reilly collaborate with Spike Jonze on this year's much-lauded Her. O'Reilly designed the video game sequence that features a potty-mouthed alien interacting with Joaquin Phoenix's character.
The project came about after O'Reilly was recommended to Jonze by various parties. The animator was left to work on the project mostly by himself, relying on just a few animators to assist him in realising his vision for which Variety singled him out as "an unsung hero". 
Not bad for a guy from Kilkenny. Did we mention he's not even 30?